Brackish Groundwater Assessment > Definition of Brackish
What is "Brackish"?
All water naturally contains dissolved solids that, if present in sufficient concentration, can make a surface-water or groundwater resource "brackish", typically defined as distastefully salty. Although quantitative definitions of this term vary, it is generally understood that brackish groundwater is water that has a greater dissolved-solids content than occurs in freshwater, but not as much as seawater (35,000 milligrams per liter*). It is considered by many investigators to have dissolved-solids concentration between 1,000 and 10,000 milligrams per liter (mg/L). The term "saline" commonly refers to any water having dissolved-solids concentration greater than 1,000 mg/L and includes the brackish concentration range.
* Milligrams per liter (mg/L) is generally equivalent to parts per million (ppm) when dissolved-solids concentrations are less than about 7,000 mg/L. For larger concentrations, a density correction should be used when converting from mg/L to ppm.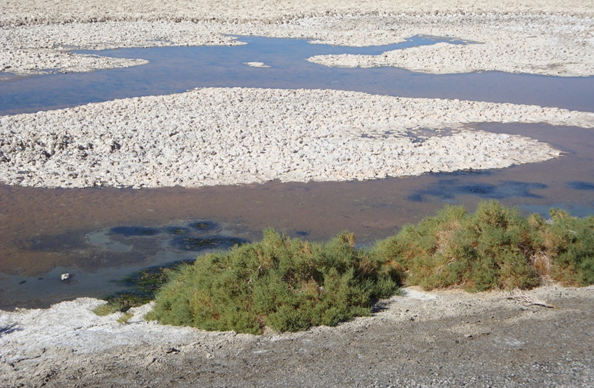 Groundwater in basin-fill aquifers of the Southwest often increases in dissolved-solids content as it travels along its flow path as a result of geochemical interactions with the aquifer matrix and through evaporative processes. At the end of its flowpath, groundwater may be brackish or saline and discharges to the surface through springs such this one in Death Valley shown in the photograph above. Photo: USGS/David Anning