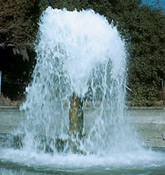 New & Noteworthy
Press Release: Study Explores Groundwater and Geothermal Energy in Drought-Stricken Eastern Oregon and Neighboring States
Technical Announcement: USGS Issues Revised Framework for Hydrogeology of Floridan Aquifer
Press Release: High Plains Aquifer Groundwater Levels Continue to Decline
Regional Groundwater Availability Study Geospatial Data
Press Release: USGS Assesses Current Groundwater-Quality Conditions in the Williston Basin Oil Production Area
USGS Groundwater Watch
USGS maintains a network of active wells to provide basic statistics about groundwater levels.
Other Water Topics
Water Resources
Groundwater
Surface Water
Water Quality
Water Use
USGS in Your State
USGS Water Science Centers are located in each state.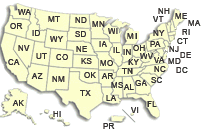 GWRP > Regional Groundwater Availability Studies Geospatial Data > Williston and Powder River Basins
Williston and Powder River Basins Aquifer Systems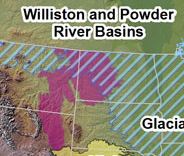 The Williston and Powder River Basins study combines the lithostratigraphic units of the glacial, lower Tertiary, and Upper Cretaceous aquifer systems in the United States and Canada into 7 regional hydrogeologic units-glacial deposits, 4 bedrock aquifers, and 2 bedrock confining units-using general hydraulic properties. The glacial deposits are composed of till and glacial outwash sands and gravels with areas of cobbles and boulders. The four bedrock aquifers are the upper Fort Union, lower Fort Union, lower Hell Creek, and Fox Hills aquifers and are contained primarily in sandstone layers. The two confining units are the middle Fort Union hydrogeologic unit (shale) and upper Hell Creek hydrogeologic unit (contains less sandstone than the underlying lower Hell Creek aquifer). Water from hydrogeologic units in these three aquifer systems is relatively fresh and potable, whereas withdrawals seldom occur from units below the basal confining unit because of great depths (greater than 800 ft) and poor water quality.
The data files listed below are supplemental to the USGS Scientific Investigations Report 2014-5047 titled 'Hydrogeologic Framework of the Uppermost Principal Aquifer Systems in the Williston and Powder River Structural Basins, United States and Canada'. The report includes a description of methods used to derive the data.
Click on the links below to download files (see Explanation of spatial data formats).