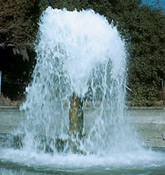 New & Noteworthy
Press Release: Study Explores Groundwater and Geothermal Energy in Drought-Stricken Eastern Oregon and Neighboring States
Technical Announcement: USGS Issues Revised Framework for Hydrogeology of Floridan Aquifer
Press Release: High Plains Aquifer Groundwater Levels Continue to Decline
Regional Groundwater Availability Study Geospatial Data
Press Release: USGS Assesses Current Groundwater-Quality Conditions in the Williston Basin Oil Production Area
USGS Groundwater Watch
USGS maintains a network of active wells to provide basic statistics about groundwater levels.
Other Water Topics
Water Resources
Groundwater
Surface Water
Water Quality
Water Use
USGS in Your State
USGS Water Science Centers are located in each state.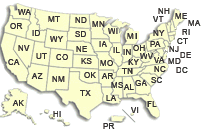 GWRP > Regional Groundwater Availability Studies Geospatial Data > Central Valley
Central Valley Aquifer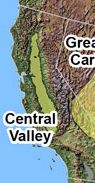 The Central Valley is virtually one large sediment-filled valley between the Coast Ranges and the Sierra Nevada. A huge volume of sediments of deep marine, shallow marine, deltaic, and continental origin fill the Central Valley. Most of the freshwater, however, is contained in the upper part of the sediments consisting of post-Eocene continental rocks and deposits, with thicknesses ranging from 1,000 to 3,000 feet. The continental sediments consist mostly of basin-fill or lake deposits of sand and gravel interbedded and mixed with clay and silt. Depending on location, deposits of fine-grained materials-mostly clay and silt-compose as much as 50 percent of the thickness of the valley-fill sediments. Although a number of stratigraphic units have been identified (Tuscan, Tehama, Tulare, and San Joaquin formations), their spatial character and extent is poorly known. For the Central Valley Hydrologic Model, continental deposits were divided into 10 vertical layers and characterized using sediment textures (percent coarse-grained sediments).
The data files listed below are supplemental to the USGS Professional Paper 1766 titled 'Groundwater Availability of the Central Valley aquifer, California.' The report includes a description of methods used to derive the data.
Click on the links below to download files (see Explanation of spatial data formats).