Data & Information
One of the goals of the USGS Groundwater Resources Program (GWRP) is to identify, describe, and make available fundamental information regarding groundwater availability in the Nation's major aquifer systems:
Groundwater Level Data
Measurements of groundwater levels from wells are used to monitor changes in groundwater conditions due to climate variability and withdrawals (pumping). The GWRP has supported the development of a Groundwater Climate-Response Network, a network of wells selected to illustrate the response of the groundwater system to climate variations nationwide.
The Climate Response Network Web site is part of the USGS Groundwater Watch web site, which is the official USGS Web site for illustrating current groundwater conditions in the United States and Puerto Rico.
Regional Evaluations of Groundwater Levels
The GWRP also supports the regional evaluations of groundwater levels in areas of the country where groundwater resources have undergone intensive development. Recent examples include:
Geospatial Data
Large amounts of digital-spatial data are generated as part of USGS efforts to holistically assess the Nation's groundwater. Regional groundwater availability studies are currently taking place to document the supply and demand of this important natural resource for principal aquifers of the United States. It is essential to document the status and trends in groundwater availability for planning a sustainable future. The USGS is maximizing the impact of these studies by preserving and increasing access to this pertinent information. Providing these data allows the scientific and water management community to more easily access and use the compiled existing and newly derived geologic and hydrologic data to address water related issues/concerns by partners, stakeholders , and the public.
Available Data by Aquifer
Geospatial data for aquifers shown on the map can be acquired by clicking on the area of interest (if study is not clickable, data is not yet available). Data are available in several formats, including non-proprietary formats when possible.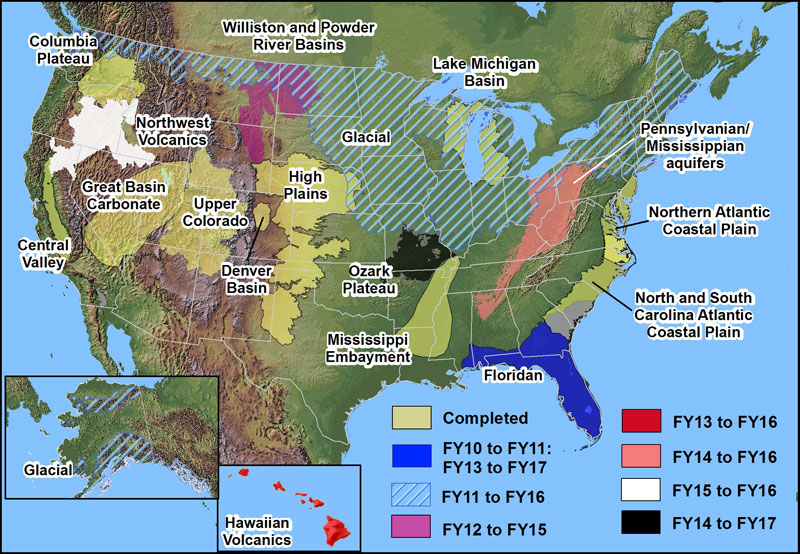 Figure 1: Map of U.S. Geological Survey (USGS) Groundwater Resources Program regional scale groundwater study areas. Explanation indicates the fiscal years during which the studies are planned to occur. (Updated April 2015)
Available Data by Theme
Geospatial data currently are available to describe hydrogeologic unit boundaries (framework) and groundwater recharge for selected aquifer systems. Data for each of those themes can be accessed by clicking on the links below. Other data themes will be added to this site as they are released.