U.S. Geological Survey
Environment Canada Climate Information Branch
---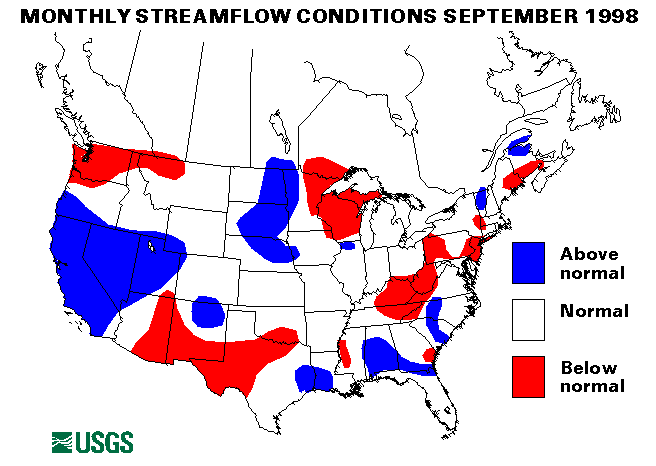 ---
Provisional data subject to review.
---
Conditions for the month of September 1998
Southeast Region
On September 3, Hurricane Earl came ashore near Panama City, Florida. Rainfall amounts up to 15 inches fell in southern Alabama and Georgia and the Florida panhandle with remnants dropping up to 5 inches across the Carolinas. Because of dry antecedent conditions, the resultant flooding was minor to moderate. The Kinchafoonee River at Preston and Dawson, Georgia; Willow Creek near Reed and Kiakoee, Georgia; the Aucilla and St. Mark's Rivers in Florida; and the Rocky River in North Carolina were hardest hit.

Drought conditions in the upper southeast persisted into September. Charleston, West Virginia, went 25 days (August 19-September 12) without measurable rain. Louisville, Kentucky, received only 0.17 inches of rain from August 10-September 12 and Lexington, Kentucky, totaled only 0.09 inches during that period.

On September 21, the Charleston, South Carolina, area was hit with heavy thunderstorms and rainfall of 8-12 inches. Street and urban flooding closed roads and forced evacuations in North Charleston. Charleston recorded a daily record of 10.52 inches of rain, greater even than that received during Hurricane Hugo several years ago.

Heavy thunderstorms dropped from 2-4 inches of rain over St. Lucie and Martin Counties on September 25.

As Hurricane Georges moved northward off the Florida Gulf coast, torrential rains hit parts of western Florida. Over 15 inches of rain fell on September 27 in Escambia County, Florida. Georges hit land near Biloxi, Mississippi on September 28. Rainfall totals ranged from 8-30 inches/nover Mississippi, Alabama, and Florida. Bay Minette, Alabama recorded 29.66 inches; Gulf Breeze, Florida 26.87 inches; and Eglin AFB, 24.24 inches. Major flooding was reported along the Escambia, Pascagoula, Tombigbee, and Conecuh Rivers in Alabama; the Escambia, Blackwater, Peace, Yellow, and Shoal Rivers in Florida; and the Biloxi, Leaf, Pascagoula, and Tchoutacobouffa Rivers in Mississippi. Some of this flooding was record or near record peaks. The Shoal River near Crestview, Florida was almost 6 feet above the previous record stage and the peak flow had a recurrence interval greater than 100 years. The Yellow River at Milligan, Florida, the Escambia River at Century Florida, and the Blackwater River near Baker, Florida, all had about 50-year floods. The Chickasaw Creek near Kushla, Alabama, also had a 50-year flood. The Tchoutacobouffa River near D'Iberville, Mississippi, had a flood peak with a recurrence interval over 100 years. Tuxachanie Creek near Biloxi, Mississippi, experienced a 50-year flood.

Mid-Continent Region
On September 11, Tropical Storm Frances made landfall between Port Aransas and Port O'Connor, Texas. The remnants of the storm then stalled over northeastern Texas. Rainfall amounts were generally over 4 inches with some localized areas reporting up to 16 inches. New Orleans had a 48-hour rainfall total (September 9-11) of 13.16 inches. Brownsville, Texas, received 7.11 inches from September 1-12, while only receiving 4.43 inches of rain from January-August. Localized flash flooding and moderate stream flooding was widespread across Texas and Louisiana. West Mustang Creek near Ganado, Texas, caused some major lowland flooding when it rose 4 feet above flood stage. Rivers in Oklahoma, Missouri, and Kansas also rose to or above flood stage by September 15. Most notable were the Marmaton and Little Osage Rivers near Fulton, Kansas; the Missouri River in Missouri; and the Neosho River in Oklahoma.

On September 16, Jackson County, Texas, received 4-7 inches of rain. Dry Creek in Edna, Texas, had major flooding with some evacuations necessary. Minor to moderate flooding was experienced along the Lavaca, Navidad, and San Bernard Rivers.

Tropical Storm Hermine produced heavy thunderstorms in Louisiana from September 17-20. Hermine made landfill near Cocodrie, Louisiana, on September 20. Only minor effects were felt from the 1 to 3 inches of rain that fell.

On September 22, 3 to 4 inches of rain fell over south Texas causing flash flooding problems.

Emporia and Garnett, Kansas, reported 3 to 4 inches of rain on September 24 causing flash flooding and rises on the Little Osage and Marmaton Rivers and Pottawatomie Creek.

Western Region
The remnants of Hurricane Isis caused heavy thunderstorms across Arizona and southern Utah on September 4 and 5. Yuma, Arizona, measured 2.26 inches/nover this period and the Tucson, Arizona, area had urban and flash flooding. A young girl drowned in a flash flood in Glen Canyon National Recreation Area in Utah after up to 3 inches of rain.

The Boise, Idaho, area was hit with rain up to 3 inches per hour on September 6-7 which caused flash flooding and mudslides.

The streamflow index station on the Gila River at Head of Safford Valley near Solomon, Arizona, recorded a new September minimum mean flow.

Puerto Rico
On September 21, Hurricane Georges hit Puerto Rico with from 10-20 inches of rain. Widespread floods and mudslides were experienced. One stream the Rio de la Plata at Highway 2 at Toa Alta, Puerto Rico, went from a flow of 10 cubic feet per second (cfs) to 130,000 cfs in less than 24 hours. Several deaths and hundreds of millions of dollars damages resulted from this very powerful hurricane.

Both streamflow index stations in Puerto Rico were above normal for September. The Rio Grande de Manati at Highway 2, Manati, Puerto Rico site set a new maximum September monthly mean flow of 3,646 cfs, with a maximum flow on September 22 of 77,800 cfs.

Hawaii
Three of the four index streamflow stations in Hawaii were in the above-normal range. Kalihi Stream near Honolulu, Oahu, Hawaii was in the normal range.

Alaska
Three of the four streamflow index stations in Alaska were in the normal range of flow for September. The Tanana River at Nenana, Alaska, was below normal.
---