U.S. Geological Survey
Environment Canada Climate Information Branch
---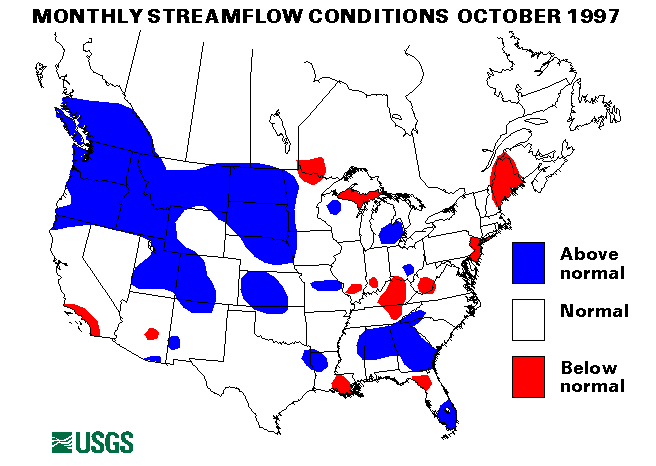 ---
Provisional data subject to review.
---
Conditions for the month of October 1997
Mid-Continent North Region
Minor flooding persisted along the Missouri River during the entire month due to upstream reservoir releases. The gaging station at Williston, North Dakota was above or very-nearly flood stage for all of October. The same situation applies to the station near Brownville, Nebraska. Other points on the Missouri River in South Dakota, Iowa, Nebraska, and Missouri reached or exceeded flood stage during the month as far downstream as St. Joseph, Missouri.

Deuel County, Nebraska, reported up to 4 inches of rain on October 11 causing localized flooding.

Intermountain West Region
On October 2, heavy thunderstorms dropped over 1.5 inches of rain in 2 hours in Alomosa, Archuleta, Baca, and Cheyenne Counties, Colorado, causing some flash flooding.

Mid-Continent South Region
Thunderstorms dropped from 2 to 5 inches of rain across parts of Martin County, Texas, on October 6 causing flash flooding.

Significant flash flooding necessitated some rescues from vehicles in Bexar County, Texas, on October 7. More than 5 inches of rain fell in 3 to 4 hours. Flooding was reported along Big Sous, Petrance, Polecat, and Medio Creeks. Lagarto, Texas, in Live Oak County, experienced rainfall of about 3 inches in an hour.

Heavy rains of up to 3 inches hit parts of Texas and Oklahoma again on October 8, Muskogee, Oklahoma, reported serious street flooding. The Corpus Christi, Texas, area was hit with heavy rains and flash flooding on October 9. Mena, Arkansas, reported 5 inches of rain on October 9.

Moisture from the Gulf of Mexico and the remnants of Pacific Hurricane Pauline caused storms that resulted in serious flooding in Texas from October 9-13. Parts of Corpus Christi, Texas, received 15 to 18 inches of rain during this period. Two deaths resulted from the flooding in Corpus Christi. Brownsville, Texas, suffered serious street flooding. Evacuations were required in Driscoll and Bishop, Texas. Bryan and College Station, Texas, reported street flooding. Rivers affected included the Lavaca, Navidad, San Bernard, and Tres Palacios.

On October 24, heavy rains fell over eastern Texas and western Louisiana. Flash flooding in that area stranded vehicles in Fort Worth, Texas and closed roads throughout the area. On October 26, Calcasieu Parish, Louisiana, received from 3-5 inches of rain again causing flash flooding.

Flash flooding was reported in McCurtain County, Oklahoma, on October 30 after rain fell at rates of 3 inches per hour.

Southwest Region
Heavy rains caused mudslides and flooding in parts of San Bernardino, California, on October 7. Some of the area affected had been burnt in recent wildfires.

Puerto Rico
On October 14, the eastern portions of Puerto Rico and the Virgin Islands received 5-10 inches of rain causing serious flooding and mudslides. Evacuations were necessary in Juncos, Patillas, and Salinas.

Mid-South Region
On October 26, heavy rains caused localized flash flooding across Alabama and Tennessee. From 3 to 5 inches of rain fell in as little as 6 hours.

Southeast Atlantic Region
Heavy rainfall on October 25-26 caused localized flash flooding in parts of Georgia and South Carolina. Creeks in the Atlanta, Georgia, area rose to or above bankfull after 3 to 5 inches of rain. Flooding along the Reedy River in Greenville, South Carolina, inundated parts of the downtown.

Citrus, Hernando, Levy, and Pasco Counties, Florida, experienced urban flooding problems after 4 to 6 inches of rain fell on October 27.

Northwest Region
The Skokomish River in Washington was above flood stage on October 30 after heavy rains fell over the southeast slopes of the Olympic Mountains.
---