U.S. Geological Survey
Environment Canada Climate Information Branch
---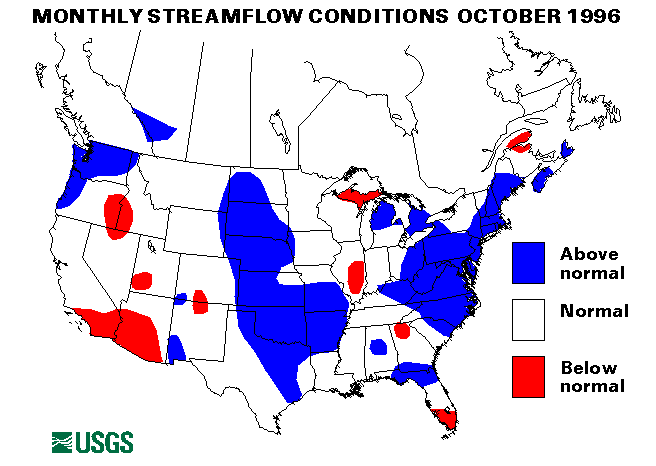 ---
Provisional data subject to review.
---
Conditions for the month of October 1996
Southeast Region
From October 1 to 3 heavy rains of 3 to 6 inches caused flash flooding in northern Florida, Georgia, and South Carolina. Daytona Beach, Florida, recorded 3.51 inches of rain in 45 minutes on October 3. A bridge was reported washed out near Joanna, South Carolina.
Hurricane Josephine caused flash-flooding problems from Texas to central Pennsylvania from October 4 to 9. As Josephine was forming in the western Gulf of Mexico, heavy rainfall hit Brownsville, Texas. On October 4 9.09 inches fell; one death by drowning was reported during the resultant severe flash flooding. On October 6, 200 to 300 residents were stranded by heavy rainfall and surf on Grand Isle, Louisiana. After Josephine made landfall near St. Marks, Florida, on October 8, general rainfall totals of from 4 to 6 inches were recorded throughout Florida, Georgia, South Carolina, and North Carolina and caused localized flash flooding. By October 9, Josephine was off the coast of New England. Associated rainfall of 1 to 3 inches fell in central Pennsylvania in the same areas that had been affected by Hurricane Fran earlier this year.
On October 16 flash flooding was the result of more than 5 inches of rain across portions of northern Assumption Parish in Louisiana.
Heavy thunderstorms on October 24-25 again hit Louisiana and eastern Texas. Local rains totaled up to 5 inches. Lake Charles, Louisiana, had a weekly rainfall total of 9.19 inches. Flash flooding was experienced in urban and low-lying areas.
Louisiana and Texas again received 6 to 12 inches of heavy rainfall from October 27 to 29. Measured rainfall rates were up to 3 inches per hour. Flooding was significant on the Frio and the Leona River Basins in Texas. Elm Creek below Atherton, Texas, in the Leona River Basin had a near-record flood peak.
Midwest Region
On October 17 heavy thunderstorms dropped up to 3 inches of rain across south and east- central Minnesota and west-central Wisconsin . Localized flooding was aggravated by leaf-plugged storm drains.
Middle Atlantic Region
A severe frontal storm hit New Jersey and Pennsylvania on October 19-20. Widespread rainfall amounts of from 4 to 6 inches with isolated 8-inch totals were reported. The Raritan River in New Jersey reached record levels. Assunpink Creek in Trenton, New Jersey, was 2 feet over flood stage. Several streams in eastern Pennsylvania also were significantly over flood stage; the Jordan Creek in Whitehall Township, Lehigh County, was 2 feet over flood stage, and Chester Creek in Delaware County was 3.5 feet over flood stage. Many evacuations were necessary, and roads were closed in New Jersey and Pennsylvania.
New England and New York Region
The Nor'easter that hit New Jersey and Pennsylvania moved into New York and New England between October 20 and 22. In Maine rainfall totals for the storm were 19.19 inches in Camp Ellis, 19.00 inches in Gorham, and 12.55 inches in Portland. Portland's total included 10.53 inches in 24 hours on October 21-22; the former record rainfall for 24 hours was 7.83 inches. Flash flooding and river flooding was experienced across New York and New England. Several dams failed, including the Highland Lake Dam in Cumberland County, Maine, which caused significant rises on the Presumpscot River. Evacuations were necessary in Arlington and Tingsburo, Massachusetts, and a state of emergency was declared throughout eastern Massachusetts.
Western Region
On October 29 heavy rainfall of up to 4 inches caused small stream flooding in parts of California. Rock Butte in the Coast Range near Paso Robles was one of the hardest hit areas.
Alaska
Streamflows at the index-streamflow gages in Alaska were below normal at all four sites. Streamflow ranged from 44 to 73 percent of the long-term median.
Hawaii
Streamflows at the two index-streamflow gages, which reported data for October, were below normal. Streamflow ranged from 24 to 38 percent of normal median for the month of October.
Puerto Rico and Virgin Islands
Both streamflow-index sites in Puerto Rico were below normal with streamflow 54 percent of median.
Big Three Rivers
The combined flow of the three largest rivers in the lower 48 States-- the St. Lawrence, the Mississippi, and the Columbia--increased 11 percent from last month to 780,800 cubic feet per second. This flow is 113 percent of the long-term (1961-90) median and in the normal range. The flow of the Mississippi River at Vicksburg, Mississippi, increased 23 percent from September and was 125 percent of October's long-term median flow.
---