U.S. Geological Survey
Environment Canada Climate Information Branch
---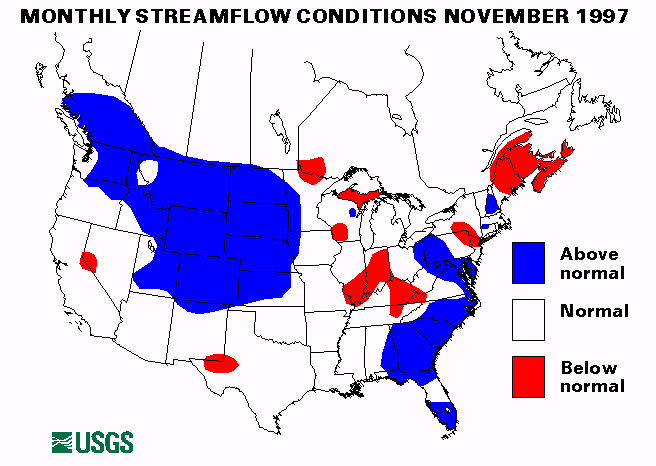 ---
Provisional data subject to review.
---
Conditions for the month of November 1997
Mid-Continent North Region
Minor flooding along the Missouri River persisted throughout November due to upstream reservoir releases. The station at Brownville, Nebraska, was above flood stage all month and other stations from North Dakota downstream to Rulo, Nebraska, were above or very near flood stage.

The index gaging station on the Bad River near Fort Pierre, South Dakota, set a new maximum November mean monthly flow.

Mid-Continent South Region
On November 5, heavy rainfall from thunderstorms dropped over 3 inches of rain with rates up to 2 inches per hour over parts of McCurtain and Pushmataha Counties, Oklahoma. Heavy rains also caused flash flooding in Pulaski and Saline Counties, Arkansas, and the Houston, Texas, area reported 6 to 8 inches of rain which resulted in street flooding.

Mid-Atlantic Region
Heavy rains up to 4 inches hit Pennsylvania on November 7-8. Widespread small stream flooding was experienced across the state with the south central mountain area being the hardest hit area. Altoona, Pennsylvania, received 6.39 inches of rain and Saxton, Pennsylvania, 7.08 inches.

Southeast Atlantic Region
Northern Virginia was hit with heavy rainfall on November 7. Rainfall totals ranged from 2 to 4 inches. Small streams were near or above bankfull across the area.

Localized flash flooding resulted from more than 7 inches of rain in Manatee, Sarasota, and Hardee Counties in Florida on November 13-14. A record peak stage was recorded on the Manatee River near Myakka Head, Florida.

A new maximum November mean monthly flow was established at the index gaging station on the Peace River at Arcadia, Florida.

Southwest Region
Heavy rainfall caused some flash flooding problems in central and southern California. Rainfall totals for November 10-16 were 3.33 inches in Santa Rosa, 2.34 inches in Redding, 1.71 inches in Sacramenta, and 0.92 inches in Los Angeles.

Northwest Region
Heavy rains in western Oregon and Washington caused some minor flooding from November 16-23. Tillamook, Oregon, received 6.80 inches of rain during this period. Florence, Oregon, measured 6.15 inches. Flooding was experienced on the Tualatin River in Oregon, and the Skokomish River in Washington.

New England and New York Region
The streamflow index station on the Little Androscoggin River near South Paris, maine, set a new maximum November mean monthly flow.

Intermountain West Region
A new November mean monthly flow maximum was recorded at the index gaging station on the North Platte River above Seminoe reservoir near Sinclair, Wyoming.

Alaska
Three of the four index streamflow gaging stations in Alaska were in the normal range. The little Susitna River near Palmer, Alaska was below normal.

Hawaii
Two of the three index streamflow gaging stations in Hawaii were in the normal range. The Eastbranch of North Fork Wailua River near Lihur, Kauai, Hawaii was below normal.

Puerto Rico
Both streamflow index stations in Puerto Rico were below normal in November.
---