U.S. Geological Survey
Environment Canada Climate Information Branch
---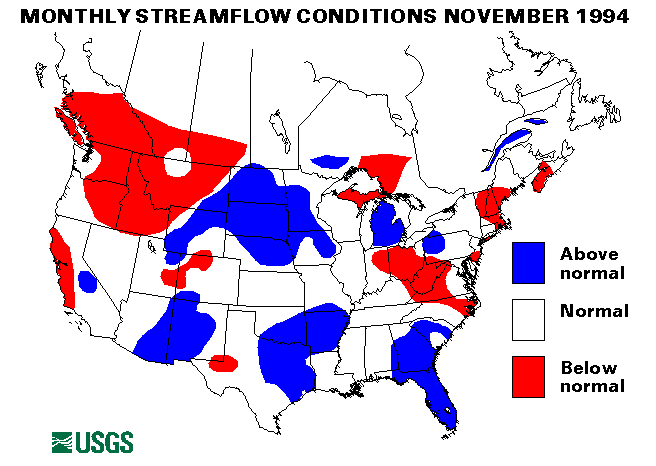 ---
Provisional data subject to review.
---
Conditions for the month of November 1994
Considerable flash flooding in northwestern Arkansas, eastern Oklahoma and southern Missouri was caused by heavy rainfall from November 3 to 5. Up to 12.70 inches (in.) of rain fell in parts of Arkansas. Most of the area received greater than 9 in. of rain during the period.

Heavy rainfall associated with Tropical Storm Gordon caused widespread flooding in Florida from November 15 to 17. Six deaths were attributed to the storm, and flooding and millions of dollars of damage to crops, especially vegetables, were reported. Rainfall amounts ranged from 5 to 15 in. over the period. Daytona Beach had an all-time record rainfall of 10.15 in. in the 24-hour period from November 15 to 16. Streamflow in the St. John's River near Christmas set a new maximum November mean flow of 5,738 cubic feet per second (ft3/s) which was 445 percent of the long-term November median.

Drought conditions persisted in Puerto Rico. The monthly mean flow at the Rio Grande de Manati at Highway 2 near Manati set another new minimum record. This was the ninth new minimum monthly mean flow in the last 14 months for this station.

Drought conditions in the Northwest moderated with heavy precipitation, much of which was snow. Many streamflow index gaging stations remained in the below normal for at least six consecutive months:

White River near Meeker, Colorado
Salmon River at White Bird, Idaho
Clearwater River at Spalding, Idaho
Yellowstone River at Corwin Springs, Montana
Clark Fork at St. Regis, Montana
Middle Fork Flathead River near West Glacier, Montana
John Day River at Service Creek, Oregon
Columbia River at The Dalles, Oregon
Green River at Green River, Utah
Spokane River at Spokane, Washington

The combined flow of the three largest rivers in the lower 48 States--the Mississippi, the St. Lawrence, and the Columbia--increased by 19 percent from last month to 744,150 ft3/s. This flow is 99 percent of the long-term November median and in the normal flow range.

A new record minimum November monthly mean flow was set at the Massapequa Creek at Massapequa, New York, streamflow index gaging station. New record maximum November monthly mean flows were set at the Red Cedar River at East Lansing, Michigan, the Buffalo River near St. Joe, Arkansas, the Gila River near Gila, New Mexico, the San Pedro River at Charleston, Arizona, and Waiakea Stream near Mountain View, Hawaii. Flow rates and hydrographs are found elsewhere in this document.
---