U.S. Geological Survey
Environment Canada Climate Information Branch
---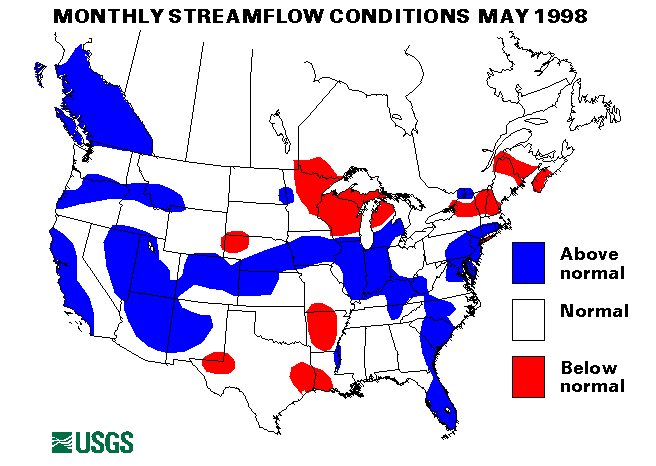 ---
Provisional data subject to review.
---
Conditions for the month of May 1998
Eastern Great Lakes Region
On May 2, heavy rains caused flash flooding and closed roads in Coshocton, Meigs, Monroe, and Muskingum Counties in Ohio.

The heavy rains of early May caused flooding along the Wabash and White Rivers in Indiana. The crest of the Wabash River at Vincennes, Indiana, on May 12 was the highest since March 1997.

A new May minimum mean monthly flow was recorded on the Sturgeon River near Sidnaw, Michigan streamflow index station.

Western Great Lakes Region
The Ohio River was above flood stage along the Illinois-Kentucky border from May 1-20. Heavy rains in tributary basins and backwater from the Mississippi River caused the minor flooding.

Heavy rainfall in the first part of May caused the Embarrass River in eastern Illinois to crest 6 to 7 feet above flood stage on May 4-5. Flooding was also experienced along the Kankakee and Sangamon rivers in Illinois. The Wabash River at Mount Carmel, Illinois, crested on May 12 at the highest level since the flooding of March 1997.

On May 20, Vermilion County, Illinois, received up to 5 inches of rain which caused widespread flash flooding problems.

A new May maximum mean monthly flow was recorded on the streamflow index station on the Buffalo River near Dilworth, Minnesota.

Mid-Continent South Region
The Mississippi River was above flood stage for parts of May from Iowa downstream to Baton Rouge, Louisiana. Heavy rains in tributary basins kept the river high but only minor flooding was experienced.

Heavy rains on May 9-10 caused flash flooding in parts of Missouri. Ozark county was especially hard hit.

On May 26, parts of Texas received up to 6 inches of rain per hour causing widespread flash flooding problems.

Southwestern Arkansas was hit with up to 10 inches of rain on May 28 with localized flash flooding. Texarkana, Arkansas, measured 10.47 inches of rain between midnight and 1630 hours on May 28 with 6 inches falling between 1100 and 1400 hours.

Intermountain West Region
Warm temperatures caused rapid snowmelt and flooding along the Portneuf River in Idaho from May 2-4.

Snowmelt and rainfall caused Cassia Creek and the Raft River to rise above flood stage in the Malta, Idaho, area on May 13-14.

On May 27, heavy rainfall in Idaho and Montana caused flash flooding and mudslide problems. A mudslide was reported in Boundary County, Idaho. Parmenter and Flower Creeks in Libby County, Montana, were bankfull following 2-3 inches of rain.

Southeast Atlantic Region
Very heavy rains of 5 to 7 inches/nover coastal North Carolina on May 4-5 caused localized flash flooding problems.

Heavy rains on May 8 caused flash flooding in Greene, Madison, and Rappahannock counties in Virginia.

Onslow County, North Carolina, had flash flooding problems following heavy rainfall on May 17.

On May 27, the eastern Carolina received 4 to 5 inches of rain causing localized flash flooding problems.

Florida was beginning to go into a drought condition. Although streamflows remained above normal or normal, this is a result of the heavy winter rainfall. Since March, rainfall has been deficit over much of Florida. Many fires are starting to burn in parts of Florida.

Mid-Atlantic Region
Allegheny and Garrett Counties in Maryland were hit with heavy rains on May 4. Flash flooding problems resulted closing roads and flooding basements.

On May 8, heavy rains again hit parts of Maryland. Roads were closed in Frederick and Washington Counties and Salisbury, Maryland, had several streets closed due to flash and urban flooding.

Northwest region
Rapid snowmelt resulting from mild temperatures caused minor flooding in southern Washington and Oregon from May 5-8. Rivers affected included the Imnaha and Sprague rivers in Oregon and the Naches River in Wahington.

Rainfall and snowmelt on May 20 brought streams to or above flood stage on the eastern slopes of the northern Oregon coast range.

Heavy rainfall on May 24-25 in the mountains of northeast Oregon caused many streams to rise over flood stage. Included were the Imnaha and Grande Ronde rivers. A mudslide was reported 30 miles south on Imnaha, Oregon, on May 27. More rainfall on May 27 caused substantial small stream flooding. Salmon Creek near Conconully, Washington rose to a point were sandbagging and evacuations were required.

Heavy rainfall on already saturated ground from May 28-30 hit central Oregon. Over 7 inches was reported north of Prineville, Oregon. A State of Emergency was declared in Crook County. water spilled over Ochoco Dam near Prineville on May 29. Homes were damaged by high water in Prineville and 400 homes had to be evacuated.

Mid-Continent North Region
Three inches of rain on May 11 caused localized flash flooding in parts of South Dakota.

On May 13, North Dakota received up to 3 inches of rain causing widespread flash flooding and aggravating chronic flooding in the Devil's Lake area.

Widespread flash flooding was reported on May 21 when Nebraska received 2 to 6 inches of rain.

Southwest Region
Heavy rain showers in Dos Palos, California, caused flash flooding in some residential areas on May 12. On May 13, some areas near Los Angeles received over 2 inches of rain. San Gabriel Dam recorded 2.13 inches in less than 30 minutes. Many small streams and streets were flooded in the area.

Some minor flooding resulting from snowmelt on May 15 was experienced in Washoe County, Nevada.

A new May maximum mean monthly flow was recorded at the streamflow index station on Arroyo Ceco near Pasadena, California.

Mid-South Region
Heavy rains in the Knoxville, Tennessee, area on May 21 caused widespread street flooding.

On May 23, Henderson, Kentucky, experienced widespread urban flooding following a heavy thunderstorm.

Heavy rains hit most of Tennessee and parts of Kentucky on May 26-27. widespread flash flooding resulted.

New York -- New England Region
A new May maximum mean monthly flow was reported for the St. Lawrence River at Cornwall, Ontario, near Massena, New York. Average flow for May was 345, 000 cubic feet per second.

Puerto Rico
The streamflow index site at Rio Inabon at Real Abajo, Puerto Rico was above normal for May. The Rio Grande de Manati, at Highway 2 near Manati, Puerto Rico had normal flow for May.

Alaska
Three of the four streamflow index stations in Alaska were below normal flow for May. The Kenai River at Cooper Landing, Alaska, was in the normal range of flow. The Chena River at Fairbanks, Alaska, was only 29 percent of median flow for May.
---