U.S. Geological Survey
Environment Canada Climate Information Branch
---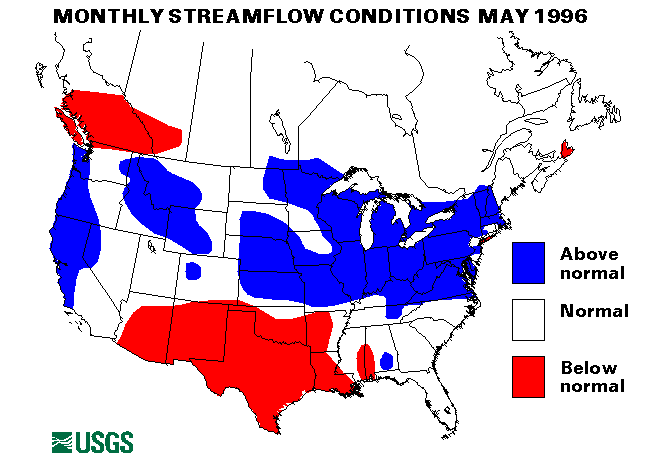 ---
Provisional data subject to review.
---
Conditions for the month of May 1996
A variety of surface-water conditions were seen during May The Upper Mississippi Valley and the Ohio Valleys saw continued wet conditions and major flooding, while the prolonged drought continued in the Southwest.

Significant flooding in Missouri, Illinois, and Indiana continued from April and lasted May. Heavy rainfall every few days kept streams above flood stage for most of the month. Particularly hard hit were the Big Muddy and the Illinois Rivers in Illinois, the White River in Indiana, the Wabash River in Indiana and Illinois, the Ohio River from West Virginia to the mouth, the Missouri and the Moreau Rivers in Missouri, and many smaller streams and tributaries. The Big Muddy River at Murphysboro, Illinois, crested at over 17 feet above flood stage. The La Moine River at Ripley, Illinois, was a record 7.8 feet above flood stage on May 8. The Little Wabash River near Effingham, Illinois, and Bear Creek near Marcelline, Illinois, equaled or exceeded the 100-year flood discharge. Many rivers in Missouri crested at over 10 feet above flood stage. Record rainfalls in May included 11.75 inches in Rockford, Illinois, 11.08 inches in Des Moines, Iowa, and 8.09 inches in South Bend, Indiana. The mean flow for the month of the Ohio River at Louisville, Kentucky, was 420,000 cubic feet per second, which was 307 percent of the long-term (1961-90) median flow for May. Additional information on the flooding in Illinois can be found on the Illinois District home page at URL="http://wwwdilurb.er.usgs.gov"

The States that surround this hardest hit area also had some significant flooding, but the intensities and duration were less. On May 6, widespread flash flooding, following heavy rainfall caused some evacuations in Phillipi, West Virginia .

On May 8, as much as 6 inches of rain caused flash floods on many small streams. in eastern Kansas and Nebraska and northern Kentucky. On May 9, from 6 to 10 inches of rain caused flooding near Glenfield, Ohio, and mudslides in Bell and Knox Counties in southeastern Kentucky.

On May 10, overflow from Buckeye Lake required the evacuation of more than 100 homes in the Millersport, Ohio, area. Rock Island, Illinois, received 6.6 inches of rain on this date.

On May 14, heavy rainfall flooded homes and closed roads owing to landslides in eastern Puerto Rico. In southeastern Oklahoma and northeastern Texas, 4 to 6 inches of rain caused localized flooding.

Following very heavy rainfall on May 16, more than 600 families had to be evacuated in Logan County, West Virginia, and one fatality and one missing person were reported. Interstate 77 in Bland County, Virginia, was closed by a mudslide. The Tug Fork River at Matewan, West Virginia, crested 12 to 13 feet above flood stage.

On May 22, heavy rainfall of 3 to 4 inches caused highway flooding in southeastern Florida. From 3 to 5 inches of rain fell during strong thunderstorms in southeastern Oklahoma.

On May 23, as much as 4 inches of rain fell during strong thunderstorms in Nebraska, Kansas and Iowa. Flash-flood watches were issued for many of these States.

During the Memorial Day weekend, from 3 to 6 inches of rain was recorded in Kansas, Missouri, Illinois, Indiana, Iowa, Nebraska, South Dakota, Oklahoma, Texas, and Arkansas. This rainfall produced widespread flash flooding. As storm near Murry Summit, Nevada produced rainfall at about 3 inches per hour along with hail, which flooded highways with water and slush.

On May 30, areas of Texas affected by the long-term drought had heavy rains that mostly ran off owing in to the high intensity. The headwaters of the Frio River rose from 8 to 10 feet. This rain did little to relieve the drought conditions.

Drought conditions existed across Arizona, New Mexico, Texas, and parts of Oklahoma, Kansas, and Nebraska. Reservoirs in southern Texas were at record low levels. Amarillo, Texas, endured a 54-day dry period that ended on May 24 with a 0.31-inch rainfall. High temperatures of more than 100 degrees F. exacerbated the problem in this area. In late May, Amarillo received a total of 1.67 inches of rain, which was more than that received during the previous 8 months. However, the 242-day total of 2.89 inches was only 35 percent of normal and was the driest period on record. During the first 5 months of 1996 Brownsville, Texas, received only 0.79 inch of rain, which is only 10 percent of normal. Streamflows at many of the index-gaging stations in this area are 0.

The combined flow of the three largest rivers in the lower 48 States-- the St. Lawrence, the Mississippi, and the Columbia--increased by 31 percent from last month to 1,686,000 cubic feet per second, which is 113 percent of the long-term median and in the normal range. The flows of all three rivers increased in May with the Mississippi River at Vicksburg, Mississippi, increasing 42 percent to a flow taht was 124 percent of median.
---