U.S. Geological Survey
Environment Canada Climate Information Branch
---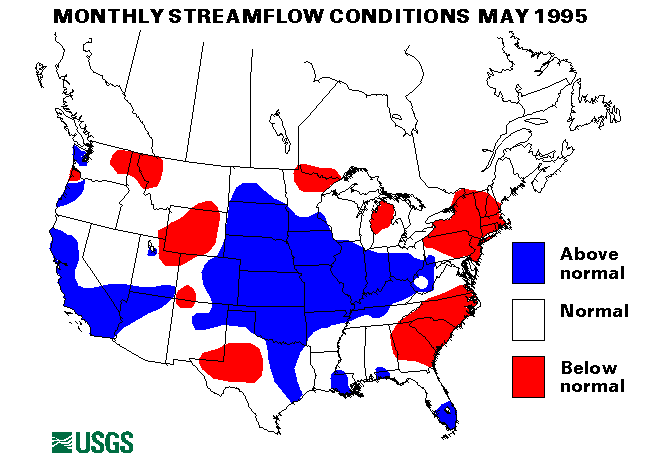 ---
Provisional data subject to review.
---
Conditions for the month of May 1995
During May many parts of the country flooded. Significant flooding was recorded from Texas to South Dakota to western Pennsylvania and West Virginia and to Mississippi and Louisiana. Below-normal flow conditions moderated somewhat in the Northeast but still persisted.

On May 5, 3 to 4 inches of rain, wind, and large hail pelted the Dallas-Fort Worth area in Texas. Eighteen people died owing to weather-related conditions. Flash flooding was prevalent throughout the area as the rainfall intensities/noverwhelmed the storm drainage system.

On May 8, flash flood watches were posted in Oklahoma, Arkansas, Texas, Kansas, Iowa, South Dakota, Missouri, Illinois, and Wyoming. Twenty-four-hour rainfall totals included 4.38 inches in Tulsa, Oklahoma, 3.60 inches in Kirksville, Missouri, and 2.66 inches in Fort Worth, Texas.

Rainfall totals on May 9 and 10 were even higher. On May 9-10, Slidell, Louisiana, recorded 15.75 inches of rain in 24 hours. Some isolated areas in Louisiana, Mississippi, Alabama, and western Florida recorded between 15 and 20 inches of rain in a 4-to 6-hour period. Widespread evacuations were necessary throughout the area. Six deaths were reported in Louisiana. Property damage in New Orleans was estimated to be $3 billion. One station recorded 27.5 inches of rainfall in 55 hours. Record streamflow peaks were recorded on the Biloxi River near Worthen, and Lyman, Mississippi, and the Wolf River near Landon, Mississippi. Some peak stages were more than 4 feet above previously recorded peaks. For more details on this Gulf Coast flooding, see the listing on the USGS, Water Resources Division, home page (http://pubs.usgs.gov/miss_flood95/flood_fs.html).

During the period from May 11 to 31, widespread flooding and flash flooding occurred throughout the Nation's midsection. Repeated days of heavy thunderstorm activity caused rainfall totals of 3-6 inches each day in South Dakota, Iowa, Missouri, Illinois, Indiana, Kentucky, Ohio, West Virginia, western Maryland, and western Pennsylvania. Flooding on the Mississippi and the Missouri Rivers approached the levels recorded in 1993, although the duration of the flooding was much shorter. In some cases tributary streams, especially in Illinois and Missouri, exceeded the flows recorded in 1993. Flooding was particularly severe in the Illinois River Basin in Illinois. The Illinois River at Henry crested on May 29 at 28.73 feet with a flow of 42,500 cubic feet per second, which was 2 feet higher than the 1993 peak. Many smaller streams in Illinois had record peak stages and flows with recurrence interval of greater than 100 years. The Big Muddy River at Murphysboro crested on May 23 at 35.8 feet; the flood stage at this station is 16 feet. Flooding on the lower Ohio River was moderate but in contrast to 1993 when the Ohio was at low levels. Because the Missouri, the upper Mississippi, and the Ohio rivers were at flood stage simultaneously, flooding problems were seen along the lower Mississippi in Tennessee, Missouri, Arkansas, and Mississippi. On May 31, the highest crest was at Caruthersville, Missouri and the crest was predicted to occur at Natchez, Mississippi, on June 9. Further information on the flooding in Missouri and Illinois can be found on the USGS, Water Resources Division, home page as well (http://water.usgs.gov/alert/mo/flood.html).

New maximum May monthly mean flows were set at three streamflow index stations. The Big Sioux River at Akron, Iowa, averaged 8,710 cubic feet per second, which was 892 percent of the long-term May median. The Nishnabotna River above Hamburg, Iowa, was at 317 percent of median at 3,469 cubic feet per second. The Saline River near Russell, Kansas, was at an incredible 3,793 percent of May median with average flows during 1995 of 1,540 cubic feet per second. No new May minimum mean monthly flows were recorded at the index- gaging stations.

Notable May mean flows of major rivers include the Washita River near Dickson, Oklahoma, 768 percent of median; the Rock River near Joslin, Illinois, 196 percent; the Minnesota River near Jordan, Minnesota, 341 percent; the Sciota River at Higby, Ohio, 237 percent; and the Ohio River at Louisville, Kentucky, 203 percent. The combined flow of the three largest rivers in the lower 48 States--the Mississippi, the St. Lawrence, and the Columbia--increased 58 percent from last month to 1,528,000 cubic feet per second. This flow is 102 percent of the long-term May median and in the normal range. The Mississippi River at Vicksburg, Mississippi, increased 65 percent from last month. The Columbia River increased 125 percent from April, reflecting snowmelt conditions.

Snowmelt was delayed into May or even early June throughout much of the West. Snowpacks were much above normal in many areas. Because of this delayed melt streamflows should remain high much later than normal.

Below-normal streamflows were reported in the Northeast. Flows have been below normal for several months but moderated somewhat as rainfall spread into the area in late May.
---