U.S. Geological Survey
Environment Canada Climate Information Branch
---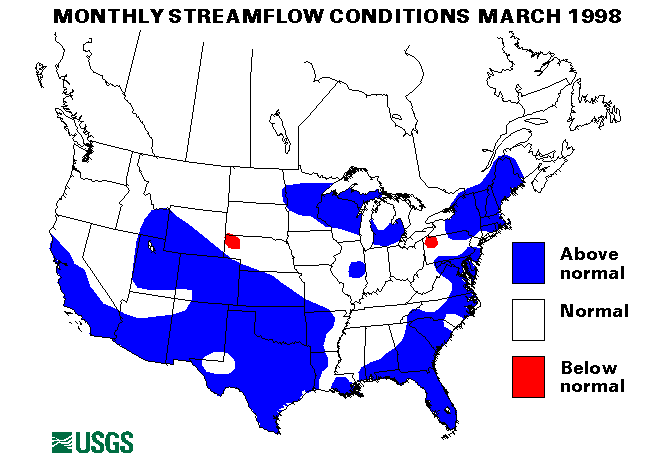 ---
Provisional data subject to review.
---
Conditions for the month of March 1998
Mid-Continent North Region
Spring snowmelt and ice jams caused flooding along the Red River of the North and Sheyenne Rivers in North Dakota and Minnesota from March 5-7.

From March 17-20, ice jams caused some minor flooding along the Platte river and Elkhorn River in Nebraska.

Mid-South Region
Extremely heavy rainfall on March 6-9 over much of the south caused widespread flooding. Many locations in Alabama, Georgia, and Florida reported up to six inches of rainfall with some isolated reports of 10-12 inches. This rainfall was over an area already saturated with rains during January and February and with rivers already at or near flood stage. Elba, Alabama, received over 9 inches of rain in less than 24 hours which caused Beaver Dam Creek to breach a levee and inundate the town. 2,000 residents had to be evacuated. Major flooding occurred along Brewton and Escambia Creeks in southern Alabama. Dozier, Alabama, was flooded when the Clarke Fish Dam failed. Five deaths were reported in the entire region attributed to this storm. The Yellow River at Milligan, Alabama, reached a record peak.

Minor flooding along the Ohio River in Kentucky occurred from March 26-31. Heavy rains in the tributary basins and backwater from the Mississippi River contributed to this flooding.

Southeast Atlantic Region
Heavy rainfall over the weekend of March 6-8 caused widespread flooding over the panhandle of Florida and Georgia. Up to six inches of rain on an already saturated ground caused runoff to rivers at or near flood stage. The Chipola, Sante Fe, and Suwanee Rivers in Florida reached near record floods. On March 14, the Flint River in Georgia reached a crest about 18 feet over flood stage in Albany. More than 10,000 people had to be evacuated due to this major flooding. Significant flooding also occurred along the Cape Fear, Neuse, and Lumber rivers in North Carolina and the Pee Dee river in South Carolina. The Oconee River in Georgia had new record stages. Substantial flooding also occurred along the Withlacoochee River at Valdosta, Georgia.

More heavy rainfall on March 18-19 caused additional flooding in North Carolina. Up to 3 inches of rain fell across the Piedmont region. A new peak of record was measured on the Tar River near Rocky Mount, North Carolina. For more information on flooding in North Carolina.

Heavy rains caused flash flooding problems on March 20-21 in Virginia and West Virginia. Mudslides and highwater closed highways in Braxton and Kanawha Counties in West Virginia.

Five streamflow index gaging stations set new maximum March monthly means following all the heavy rainfall. They are Fisheating Creek at Palmdale, Florida; Peace River at Arcadia, Florida; Suwanee River at Branford, Florida; Alapaha River at Statenville, Georgia; and the Altamaha River at Doctortown, Georgia.

New England and New York Region
Snowmelt, heavy rains and ice jams caused minor flooding in Vermont on March 11. The Missisquio River was flooded and Lake Champlain was also at a high level causing some flooding problems.

Unseasonably warm temperatures on March 30-31 caused floods from snowmelt along the Kennebec and Connecticut Rivers in Maine, and in northern New York. Some ice jam flooding was also reported along the St. John River in Maine. In Vermont, heavy rainfall combined with the snowmelt to cause minor flooding along the Connecticut, Black, Missisquio, and Lamoille Rivers. Evacuations were necessary in Malone, New York, due to high water on the Salmon River.

A new maximum mean monthly March flow was established at the streamflow index station on the St. Lawrence River near Massena, New York.

Mid-Continent South Region
Minor flooding along the Missouri and Mississippi Rivers started with some heavy rains in Missouri about March 11. Minor flooding was experienced from Illinois downstream to Baton Rouge, Louisiana

Heavy rains from March 14-16 caused flash flooding over most of Oklahoma and Texas. Significant flooding was experienced along the Poteau, Deep Fork, and Caney Rivers in Oklahoma. A crest of above 10 feet over flood stage was measured on the Poteau river near Panama, Oklahoma. Bird Creek near Tulsa, Oklahoma, caused flooding problems. Severe flooding also occurred along the Neosho River in Oklahoma.

A new maximum March monthly mean flow was measured at the streamflow index site on the North Bosque River near Clifton, Texas.

Mid-Atlantic Region
Heavy rains on March 20-21 caused flash flooding along the Conodoguinet and Yellow Breeches Creeks in central Pennsylvania. Several roads were closed.

A new maximum March mean monthly flow was established at the streamflow index site at Seneca Creek at Dawsonville, Maryland.

Southwest Region
Moderate to heavy rains fell March 23 in the San Fransisco bay region. There was some minor urban and small stream flooding.

Rainfall totalling as much as 3-5 inches fell on central and southern California on March 25. Some mudslides occurred in the Malibu area and some minor flash flooding was also reported.

Northwest Region
Rainfall, warmer than normal temperatures and rapid mountain snowmelt caused minor flooding on streams in Washington and Oregon on March 24.

Intermountain West Region
Snowmelt caused some minor flooding near Craig, Colorado and along the Upper Snake River in Idaho on March 26.

Western Great Lakes Region
On March 30, over 3 inches of rain caused flash flooding problems in Dodgeville, Wisconsin.

Eastern Great Lakes Region
Following heavy rains on March 30, the Trap Rock River near Lake Lindon, Michigan flooded closing local highways.

Alaska
Of the four streamflow index stations in Alaska, one was below normal, the Chena River at Fairbanks, two were normal and one, the Little Susitna River near Palmer set a new March maximum monthly mean.

Puerto Rico
The streamflow index station on the Rio Grande de Manati at Highway 2 near Manati, Puerto Rico was below normal for March. The other index station, the Rio Inabon at Real Abajo, Puerto Rico was above normal.
---