U.S. Geological Survey
Environment Canada Climate Information Branch
---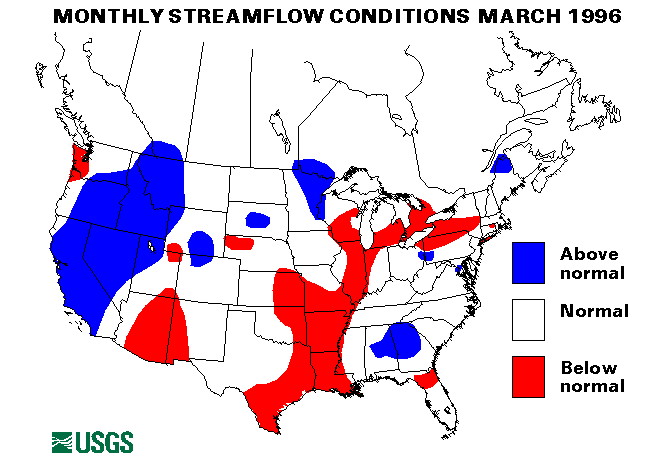 ---
Provisional data subject to review.
---
Conditions for the month of March 1996
On March 4, heavy rains caused flash flooding, flooded highways, and hazardous conditions over much of the Hawaiian islands. Laupahoehoe, Hawaii, received more than 6 inches of rain in only a few hours.

From March 6 to 8, heavy rainfall across the South caused widespread flash flooding and minor river flooding. Rainfall totals ranged from 2 to between 4 and 5 inches. Particularly hard hit was the Atlanta area, which received more than 3.5 inches of rain; the Peachtree Creek crested 2 to 3 feet over flood stage. Talladega County, Alabama, received more than 5 inches of rain, which flooded roads and pastureland and caused the Tombigbee River to exceed flood stage. Flooding ranged from southern Illinois and Kentucky to Mississippi and Louisiana, and to North Carolina, and South Carolina. The Congeree River at Columbia, South Carolina, crested about 2.5 feet over flood stage.

On March 11-12, many locations in east-central Florida received from 5 to 10 inches of rainfall. Low-lying areas, agricultural areas, and some roads were affected by the resulting flash flooding.

Snowmelt and ice jams caused minor flooding across Montana, North Dakota, South Dakota, Minnesota, Wisconsin, Nebraska, and Illinois from mid-March to the end of the month. Flooding generally affected agricultural lands, but some evacuations were required. Some of the rivers affected were the Missouri in North Dakota, the Milk and the Yellowstone in Montana, the James in South Dakota, and the Minnesota in Minnesota.

On March 14, a partial dam failure in New Hampshire caused some brief flooding on the Marymeeting River south of Lake Winnepesaukee. One person was reported missing.

Drought conditions have persisted across the Southweste since the beginning of the water year. These drought conditions stretch from southeastern California, southern Nevada, southern Utah, Arizona, New Mexico, Colorado, Kansas, Oklahoma, most of Texas, and parts of Nebraska, Iowa, Illinois, Missouri, Arkansas, and Louisiana. A new minimum March monthly mean flow was recorded at the index-gaging station on the Calcasieu River near Oberlin, Louisiana. The March 1996 flow was only 194 cubic feet per second (ft3/s) which is only 11 percent of the long-term (1961-90)--median flow.

The combined flow for the three largest rivers in the lower 48 states-- the St. Lawrence, the Mississippi, and the Columbia--decreased 11 percent from last month to 1,098,300 cubic feet per second (ft3/s). This flow is 84 percent of the long-term median and in the normal range. The Mississippi River at Vicksburg, Mississippi, was only 75 percent of median. Despite decreased flow the Columbia River at The Dalles, Oregon, was 157 percent of median, 28 percent from last month.
---