U.S. Geological Survey
Environment Canada Climate Information Branch
---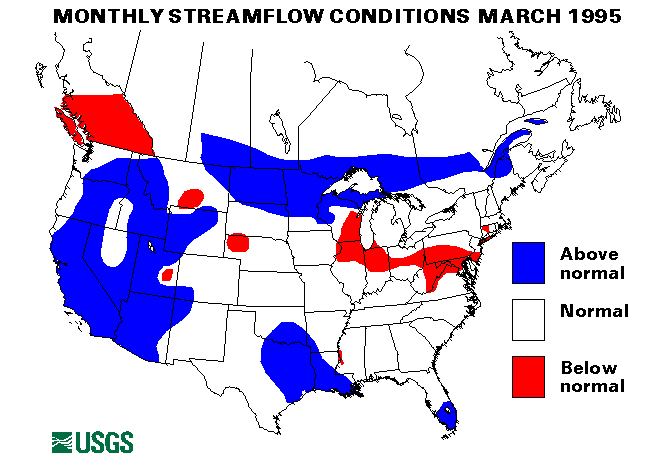 ---
Provisional data subject to review.
---
Conditions for the month of March 1995
Storm patterns similar to those in January again caused extensive flooding and flash flooding throughout much of California during March. Southern California had very heavy rains from March 4 through 6 with over 14 inches recorded at Mount Palomar and over 10 inches at Idyllwild. The San Fransisco Bay area received from 6 to 8 inches on March 8 through 10. Record floods were recorded on the Napa and Salinas Rivers. Flooding in the Sacramento, Russian, and Eel River Basins was comparable to that experienced in January. The Russian River at Hacienda Bridge near Guerneville rose 32 feet in 24 hours from March 8-9. The Interstate 5 bridge near Coalinga was destroyed and some lives were lost. More heavy rain and much urban and small-stream flooding occurred in most parts of the state on March 19-25. The index-gaging station on North Fork American River at North Fork Dam, California, had a monthly mean flow of 5,084 cubic feet per second, 418 percent of the long-term median, and a new maximum monthly mean flow for March.

Edges and remnants of these same storms caused flash flooding in Nevada, Utah, and Arizona as well, particularly on March 11-12. Flooding was extensive in the Santa Clara River and Beaver Dam Wash Basins in southwestern Utah.

Heavy rainfall from 4 to 8 inches caused isolated minor flash flooding throughout the southeast during the week of March 12 through 18. Louisiana, Mississippi, Arkansas, and Florida were hit the hardest.

Snowmelt and ice-jam flooding occurred from middle to the end of the month across many of the northern tier states. North Dakota, South Dakota, Minnesota, and Iowa reported the most problems with flooding on the James, Sheyenne, Maple, Wild Rice, Red, Snake, Iowa, Minnesota, Buffalo, and Pembina Rivers, as well as many smaller streams. Other minor flooding was reported in Wisconsin, Michigan, New York, and Vermont. A new March maximum monthly mean was recorded at the index-gaging station on the Red River of the North at Grand Forks, North Dakota, of 15,350 cubic feet per second. This flow is 738 percent of the 1961-90 long-term median for March.

A new March maximum monthly mean was also reported for Saline Bayou near Lucky, Louisiana. New March minimum monthly mean flows were reported at index-gaging stations on the Little Susitna River near Palmer, Alaska, and Massapequa Creek at Massapequa, New York. The Massapequa Creek station has had below median flows since May 1993 and has established four new minimum monthly mean flows in that period.

The combined flow of the three largest rivers in the lower 48 states-- the Mississippi, the St. Lawrence, and the Columbia--increased by 66 percent from last month to 1,676,300 cubic feet per second. This flow is 127 percent of median and above normal for March.
---