U.S. Geological Survey
Environment Canada Climate Information Branch
---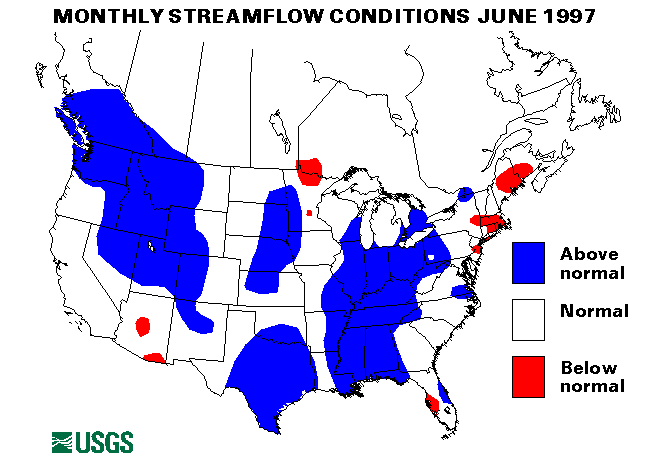 ---
Provisional data subject to review.
---
Conditions for the month of June 1997
Atlantic Southeast Region
Heavy rainfall on June 1-3 drenched parts of Florida, Georgia, Virginia, and West Virginia causing flash flooding. Bullock and Chandler Counties in Georgia reported over 3 inches of rain in an hour. Up to 5 inches of rain fell in Rockbridge County, Virginia. Petersburg, West Virginia, reported 2.4 inches of rain in 6 hours. Reports of two deaths in West Virginia due to flooding were noted. Rainfall rates of 2 to 3 inches per hour were reported over much of West Virginia with storm totals on June 3 over 6 inches reported.

On June 6, 7.37 inches of rain fell in downtown Charleston, South Carolina. Severe flash flooding in the Charleston area closed many roads. Rainfall intensity was as high as 5 inches in 2 hours.

Southern Florida was hit by heavy rains on June 9-10. General rainfall was 3-5 inches. Homestead, Florida, totaled 16.36 inches with 7 inches in about 18 hours. Miami measured 5.89 inches of rain. Many roads were flooded and closed.

Eastern Great Lakes Region
Heavy thunderstorms on June 1-3 in Indiana and Ohio caused widespread flooding. The White River in Indiana rose sharply to about 6 feet above flood stage. In Ohio, flooding was experienced on the Scioto and Cuyahoga Rivers and Big Darby Creek. The Ohio River also rose to flood stage or above due to the high tributary inflow. Flooding in Indiana continued through June 24.

Vincennes, Indiana, reported 4.67 inches of rain in 11 hours on June 17-18. Small creeks and streams experienced flooding. Flooding on the Wabash River was aggravated by this additional inflow. More rain fell in Indiana on June 19, with totals as high as 5 inches in isolated areas, again aggravating flooding conditions.

The East Fork White River at Shoals, Indiana, 580 percent of the 1961-90 long-term median, and the Scioto River at Higby, Ohio, 399 percent, set new maximum June monthly mean flows at streamflow index stations.

Mid-Continent North Region
The flood warning for the Red River of the North was canceled on May 30. The Souris River in North Dakota dropped below flood stage on June 4. The James River in South Dakota dropped below flood stage on June 20. Those rivers dropped faster than expected from the record peaks in April due to much below normal rainfall this spring in those basins. Heavy rainfall on June 2-3 in western Nebraska and South Dakota, caused flash flooding problems. Rapid Creek in Rapid City, South Dakota, flooded roads up to 3 feet deep. Evacuations were necessary in Bridgeport, Nebraska.

The Missouri River in Montana, North Dakota, South Dakota, Nebraska, and Missouri was high throughout the month due to reservoir releases and snowmelt. Minor flooding was the rule with some recreational and agricultural areas affected.

Perkins County, South Dakota, received over 6 inches of rain on June 10-11 causing Rabbit, Brushy, Thunder Butte and Cherry Creeks to flood low-lying areas.

Thunderstorms hit Kansas, Iowa, and Nebraska, from June 13-16. On June 13, Butler County, Kansas, received 6-8 inches of rain. Flash flooding, road closures and rapid stream rises resulted. Keokuk, Iowa, was notably affected on June 16.

June 24-25 saw heavy thunderstorms drop up to 7 inches of rain on parts of Kansas and Nebraska. Urban and small stream flooding and rapid rises on creeks and streams was common. Mill Creek in Kansas crested 9 feet above flood stage.

Devils Lake in North Dakota was at an elevation of 1,442.2 feet on June 18, 1.2 feet above the historical maximum of 1830.

Intermountain West Region
On June 4, a nearly stationary thunderstorm dropped 1-2 inches of rain in an hour in Pueblo and Las Animas Counties, Colorado. Flash flooding resulted with some roads closed.

Snowmelt combined with heavy intense rainfall caused record flooding in Montana from June 2-18. On June 5, 4 to 4.5 inches of rain fell in 30 minutes near Harlowtown, Montana. Peak flows on some stations had recurrence intervals near 100-years. Record flows were measured on the Gallatin River on June 2, the Boulder River on June 5, the Yellowstone River on June 6 and 12, and the Missouri River on June 12. For more information on this flooding in Montana see (http://montana.usgs.gov/www/p ublic/June_News_Release.html).

Thunderstorms hit parts of Colorado from June 6-9 causing flash flooding in many areas. Rainfall totals up to 4 inches were recorded. Storms also hit Wyoming on June 7-8. The Little Wind River breached a levee on June 8 and flooded some homes.

Heavy rainfall and snowmelt from still high snowpacks caused record streamflows on the Snake River in Wyoming and Idaho and near-record flows on the Wind River in Wyoming on June 11. Further information on flooding in Wyoming can be found at (http://wyoming.usgs.gov/). Roberts, Idaho, had to be evacuated on June 13 after a levee failed. Other serious flooding problems in southeast Idaho threatened a bridge near Ririe, a high school near Firth, and many homes and businesses.

Heavy rainfall caused flash flooding in parts of Colorado from June 13-15. Rainfall totals of 6 inches and rates of 2 inches per hour were recorded. Evacuations were necessary in Kersey and Holyoke, Colorado. Many highways were closed.

Six streamflow index stations in Idaho and Montana have had above-normal flows for at least six consecutive months. Three of those also set new maximum June mean monthly flows. the Snake River near Heise, Idaho set a new record with 41,800 cubic feet per second cubic feet per second (ft3/s), 192 percent of median and has been above-normal for 8 months. The Snake River at Weiser, Idaho, Salmon River at White Bird, Idaho, and Clearwater River at Spalding, Idaho, have been above normal for seven, eight, and six months, respectively. The Yellowstone River at Corwin Springs, Montana, set a new record with 22,540 cubic feet per second (ft3/s), mean flow, 195 percent of median, and has been above-normal for eight months. The Yellowstone River at Billings, Montana, set a record June flow with a 52,140 cubic feet per second (ft3/s), mean, 180 percent of median, and has been above-normal for seven consecutive months.

Mid-Continent South Region
3 to 4 inches of rain fell on June 4-5 in Presidio County, Texas, causing rapid rises in streams. On June 6-7 6 inches of rain fell in Taylor County, Texas, and up to 11 inches in San Sabo county. this rain caused flash flooding problems like road closures and flooded basements. Parts of Moulton, Texas, had to be evacuated. Rains continued on June 8-9. San Angelo, Texas, had flash flood problems and the Austin, Texas, area also reported flooding. Cypress Creek swept away about 15 vehicles and one woman was reported missing. Wimberly, Texas, reported flooded homes. Onion Creek in Hays and Travis Counties experienced major flooding. At the William Cannon Drive Bridge, 8 feet of water was flowing over the bridge deck.

On June 10-11, over 4 inches of rain hit St. Mary and Tangaphea Parishes in Louisiana. Kentwood, Louisiana, measured 2.5 to 3 inches of rain in 30 minutes. This heavy rain pushed streams to bankfull and flooded some streets.

On June 12-13, 7.9 inches of rain fell on parts of Wheeler county, Texas, causing rapid rises on creeks and streams and flash flooding problems. hunt county, texas, had over 8 inches of rain on June 13 causing widespread flooding. Rainfall continued across much of Texas from June 14-16 causing flash flooding and aggravating existing floods. The Pecos River experienced widespread flooding and the Neches River crested 1.3 feet above flood stage.

Parts of Texas and Louisiana suffered from flash flooding following heavy rains of 4-6 inches on June 17-18. Iberville, Louisiana, measured 7.6 inches with rates of 3 inches/hour.

Extensive flooding hit portions of Texas after as much as 20 inches of rain fell over the weekend from June 20-22. At least three people died as a result of the flooding. helicopter evacuations were necessary. Rivers around Austin and San Antonio had severe flooding. The Llano River at Llano, Texas, set new peak stage and flow records. the stage was 38.6 feet on June 23, more than 26 feet above flood stage and estimated to have a flow of 327,000 cubic feet per second (ft3/s), . The flow increased almost 150,000 cubic feet per second (ft3/s), in one hour. The Navidad and Sandies Creeks showed rises of 20 feet in 24 hours. Other rivers which suffered from flooding included the Frio, Guadalupe, Lavaca, Modine, Pedernales, Sabinel, and San Antonio Rivers.

Mid-South Region
Up to 7 inches of rain fell in a 3-hour period in parts of Clay County, Mississippi, on June 5.

Heavy thunderstorms hit Kentucky and Tennessee on June 13-14. A report from Broshead, Kentucky, reported an inch of rain in less than 30 minutes. 2 to 6 inches of rain fell in Williamsburg, Kentucky. The resultant flash flooding from this rain caused problems. Hamblin County, Tennessee, had flooded roads with many bridges washed out. Eastern Kentucky was again hit with heavy thunderstorms on June16-17. Floyd, Kentucky, recorded 1.26 inches of rain in 45 minutes. Rock and mudslides were widespread. 90 percent of northern Estill County, Kentucky, had to be evacuated and evacuations were also necessary in Powell County, Kentucky. The Big Muddy River rose to above flood stage.

Thunderstorms dropped heavy rainfall in Alabama, Kentucky, and Mississippi from June 20-22. Up to 7 inches of rain fell in parts of Mississippi on June 20 causing extensive flash flooding and necessitating evacuations.

Three streamflow index stations in Alabama and one in Mississippi had new maximum June monthly mean flows. The Cahaba River at Centreville, Alabama, 452 percent of long-term median, the Paint Rock River near Woodville, Alabama, 872 percent, the Tombigbee River at Demopolis Lock and Dam near Coatopa, Alabama, 757 percent, and the Big Black River near Bovina, Mississippi, 733 percent were these stations.

Western Great Lakes Region
Heavy rainfall from June 14-16 caused flash flooding in parts of Illinois. Carthage, Illinois, was particularly hit on June 16. Rainfall of up to 4 inches hit Wisconsin on June 15. Creeks showed rapid rises.

Heavy rainfall up to 10 inches caused flooding near Wauwatosa, Wisconsin, on June 21. Two gages recorded record peak stages and discharges; one on the Underwood Creek and one on the Menomonee River. For more information on this flooding see (http://water.usgs.gov/nwc/NWC ews/WI_june96.html). Parts of Michigan also had rainfall over 10 inches from June 20-21, causing many flash flooding problems and streams to rise above banks. Runoff from very heavy rainfall on June 25 in Duluth, Minnesota, damaged many roads and parts of the North Shore Scenic Railroad.

Alaska
Three of the four index stations in Alaska had below-normal flow in June. The Kenai River at Cooper Landing, Alaska was 92 percent of median, the Chena River at Fairbanks, Alaska, was 36 percent of median and the Tanana River at Nenana, Alaska, was 69 percent of median.

Hawaii
Two of the three reporting index stations in Hawaii had above-normal flows. The Kalihi Stream near Honolulu, Oahu, Hawaii, was 193 percent of median and the Honopou Stream near Hualo, Maui, Hawaii was 472 percent of median.

Puerto Rico
Both index sites in Puerto Rico were below-normal. The Rio Grande De Manati at Highway 2 near Manati, Puerto Rico, set a new minimum June monthly flow only 40 percent of median. The Rio Inabon at Real Abajo, Puerto Rico, was only 33 percent of median.

Big Three Rivers
The combined flow to the three largest rivers in the lower 48 states-- the St. Lawrence, the Mississippi, and the Columbia--increased 12 percent from may to 2,002,000 cubic feet per second (ft3/s), which was 148 percent of median and above-normal. All three rivers increased in flow from May to June.
---