U.S. Geological Survey
Environment Canada Climate Information Branch
---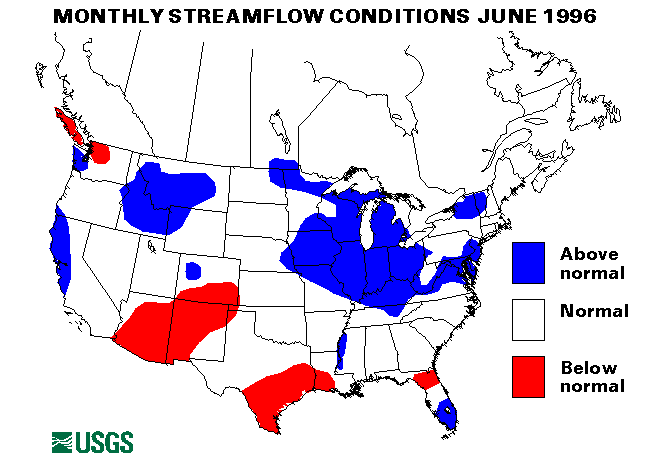 ---
Provisional data subject to review.
---
Conditions for the month of June 1996
Like May 1996, June 1996 was a month of contrasting surface-water Conditions across the country. The Upper Midwest, the Northeast and the Middle Atlantic States were very wet, while the Southwest was very dry. conditions in June were not quite so extreme as those in May, however. The major rivers in the Midwest remained above flood stage for most of the month. On June 1, the lower Ohio River approached a crest of 1 to 3 feet above flood stage from Newburgh Dam to Uniontown Dam, and a predicted crest from 5 to 9 feet above flood stage was expected at Shawneetown and Cairo, Illinoi, the crest occurred on June 4 at Cairo. Continued rains in the Ohio Valley caused another crest at about 7 feet over flood stage at Cairo on June 14. All reporting stations on the Ohio River were below flood stage by June 24. The mean monthly flow of the Ohio River at Louisville, Kentucky, was 200,000 cubic feet per second (ft3/s) which was 294 percent of the long-term median for June.

On June 1, stations on the lower Missouri River were cresting or falling as much as 5 feet above flood stage at many locations from Brownville, Nebraska, to the confluence with the Mississippi River. Heavy rains on June 6 brought renewed rises and slowed the recession on the river. By June 10, all stations were reporting falling stages with the river above flood stage from Napoleon, Missouri, to the confluence with the Mississippi River. Heavy rains across northeastern Kansas caused the river to rise again above flood stage on June 14. Rains in Missouri on June 16-17 again brought the river above flood stage at Napoleon, Waverly, Miami Glascow, and Gasconade, Missouri, on June 18. Additional rains of from 1 to 3 inches in Iowa, Kansas, and Nebraska. On June 24, brought the river back over flood stage from Omaha, Nebraska, to Miami. On June 28, the river was still over flood stage from St. Joseph to Boonville, Missouri, and a crest near or above flood stage was expected from Jefferson City to St. Charles, Missouri. The mean monthly flow of the Missouri River at Hermann, Missouri, was 198,000 ft3/s, 185 percent of the long-term median.

Several crests were working their way down the Mississippi River on June 1. The river at the station at Chester, Illinois crested at about 8 feet over flood stage. The river crested at Red River Landing and Baton Rouge, Louisiana, with peaks of 5 feet and 0.5 foot above flood stage, respectively. On June 10, all stations were reporting falling stages. The river was over flood stage from Hannibal, to Caruthersville, Missouri, at some places by more than 5 feet. Also over flood stage were the stations at Natchez, Mississippi, and Red River Landing, and Baton Rouge, Louisiana. By June 17, the river was still from 3 feet to 0.2 foot above flood stage from Grafton, Illinois, to New Madrid, Missouri, and about 4 feet above flood stage at Red River Landing. On June 26, the river was rising again and expected to go over flood stage from Grafton to Chester, by the end of the month. The river was expected to drop below flood stage at Red River Landing by June 30. The mean monthly flow of the Mississippi River at Vicksburg, Mississippi, was 1,000,000 ft3/s, of 167 percent of the long-term median.

At the beginning of the month the Illinois River at some stations in Illinois was 10 feet above flood stage, and flood warnings remained in effect for parts of the river throughout the month. The monthly mean flow for the Wabash River at Mount Carmel, Illinois, was 76,690 ft3/s, 367 percent of the long-term median.

Many areas of the Midwest, the Northeast, and the Middle Atlantic States saw shorter duration, higher intensity flooding on tributary streams and flash flooding during June owing to heavy rainfalls. On June 1, widespread flash flooding was reported in Kansas and Texas owing to rainfall totals of up to 8 inches. On June 6, up to 6 inches of rainfall fell in parts of Kansas, Iowa, and Missouri, this caused extensive street flooding, including the closing of the Kansas Turnpike near Lawrence, Kansas.

On June 11, up to 3.5 inches of rain fell in Maryland and Virginia, which caused flash flooding and road closures. On June 10 and 11, flooding around Yellowstone National Park was due to heavy snowmelt with temperatures that ranged from 80 to over 90 degrees F, and a much above normal snowpack. Flood peaks on the Yellowstone River were near 100-year flood events. Record streamflows also were recorded on the Madison River and the Lamar River in Montana and Wyoming.

On June 12, heavy rainfall of more than 4 to 5 inches in Franklin County, Pennsylvania, closed roads and forced the evacuation of a campground. On June 13, more heavy rain (more than 4 inches) fell in this same area of Pennsylvania, and from 8 to 10 inches of rain fell in Bucks County, Pennsylvania, which flooded highways and threatened homes in the Neshaminy Creek Basin. On June 12 more than 6 inches of rain caused widespread flash flooding in northern Mississippi.

On June 14, nearly 7 inches of rain fell in northwestern Louisiana; many roads were closed. High intensity rainfall with over 5 inches total and as much as 1.5 inches in 11 minutes fell over parts of Massachusetts and Vermont. The Sawmill River near Leverett, Massachusetts, exceeded the 100-year flood flow. Grafton, Vermont, was isolated by floodwaters.

On June 17, heavy rainfall near Cotopaxi, Colorado forced evacuations as a result of flash flooding. Four empty rail cars also were derailed by the floods. Very heavy rainfall hit South Dakota, Kansas, Missouri, Nebraska, Iowa, Minnesota, and Wisconsin on June 17-18. Floods of record were reported on the South Skunk River in Iowa and on Sappa Creek in Kansas. Many streams in southern Wisconsin were over flood stage. Rainfall totals were generally from 4 to 10 inches for this storm.

On June 18-19, south-central Pennsylvania and northern Maryland were pelted with up to 11 inches of rain. All the major roads in Gettysburg, Pennsylvania, were closed, and numerous evacuations were necessary in Gettysburg and Emmitsburg, Maryland. Other evacuations were reported in York and Franklin Counties in Pennsylvania. The Monacacy River near Bridgeport, Maryland, set an all-time high-flow record that was more than 25 percent higher than the flow caused by rains from Hurricane Agnes in June 1972. Continued flooding in Wisconsin damaged highways, bridges, and homes near Port Washington.

Iowa was again hit by heavy rainfall on June 21. Totals of up to 10 inches were reported, and intensities of up to 4 inches in 3 hours were reported in some locations. Numerous evacuations were necessary along the Boyer River in Crawford County. Near-record crests were expected on the Boyer and Little Sioux Rivers. A levee at Woodbine on the Boyer River failed on June 24.

On June 25, from 3 to 5 inches of rain in Potter County, Texas, caused minor flooding and a rapid rise on the Canadied River. Allegheny County, Pennsylvania, measured from 1.5 to 3 inches of rain and reported widespread flooding in the Pittsburgh area.

On June 26 Gove, Kansas, was inundated with more than 10 inches of rain which caused rapid rises in the local creeks and rivers. The Smoky Hill River and Hackberry Creek were severely affected.

The drought conditions in the Southwest eased somewhat in June, but severe dryness and wildfires were still a problem from Texas to southern California. El Paso, Texas, ended a 68-day dry spell on June 13 with a 0.05-inch rainfall. In mid-to late June, New Mexico received more than 2 inches of rain which was more than 58 percent of the year-to-date total; in the case of Moriarity, New Mexico, 89 percent of rainfall for this year fell in one storm. Reservoir contents in Texas, New Mexico, and Arizona are at record low levels. Along with the record dryness, temperatures have set record highs. Corpus Christi, Texas, tied its record-high temperature from June 17 through 19. Albuquerque, New Mexico, received 2.86 inches of rain in June, which was 88 percent of the January to June total. San Antonio, Texas, has only received 5.26 inches of rain in 1996 (34 percent of normal). Tucson, Arizona, received 0.28 inch of rain on July 3, which end a 111-day dry spell. Flow of the Rio Grande below Taos Junction Bridge near Taos, New Mexico, was only 262 ft3/s, of 27 percent of the long-term median.

The combined flow of the three largest rivers in the lower 48 States-- the St. Lawrence, the Mississippi, and the Columbia--increased 11 percent from last month to 1,872,400 ft3/s. This flow is 133 percent of the long-term median flow for June and in the above-normal range.
---