U.S. Geological Survey
Environment Canada Climate Information Branch
---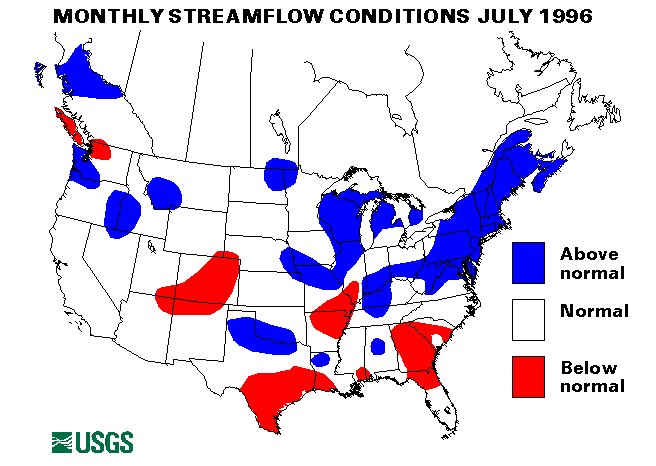 ---
Provisional data subject to review.
---
Conditions for the month of July 1996
Continuing drought, in the southwest, torrential rainfalls with record flooding in the midwest, and Hurricane Bertha in east, were the highlights of surface-water conditions across the Nation during July.

The drought situation in the Southwestern states improved during July. Oklahoma City, Oklahoma, which had only received 46 percent of normal year-to-date precipitation, had a record July monthly total of 11.90 inches of rain the remainder of the month. The drought remained in south and central Texas, however. Brownsville, Texas, has only received 12 percent of the normal year-to-date precipitation. Del Rio, and San Antonio, Texas, were only slightly better at 23 percent and 37 percent, respectively. Monsoonal thunderstorms helped ease the drought situations in Arizona and New Mexico. Tucson, Arizona, ended a 111-day dry spell on July 3 with a 0.28-inch rainfall. Fire conditions across the West were severe owing to a dry summer; wildfires were a problem in California, Oregon, Nevada, Idaho, Utah, Colorado, and Wyoming.

Drought conditions also existed in Alaska. Three streamflow index-gaging stations-the Kenai River at Cooper Landing, the Little Susitna River near Palmer, and the Tanana River at Nenana, had record low mean flows for July, with the Little Susitna River at only 39 percent of the long-term median. Wildfires also were a problem.

On July 1, 4 to 5 inches of heavy rainfall caused serious flash flooding in Boone and Kenton Counties, Kentucky. Road closings and evacuations were reported.

On July 8, between 4 and 5 inches of rainfall in 3 hours over Gove County, Kansas, caused flash flooding on many small streams. This rain and other storms in the area brought larger rivers up to or close to flood stage. In Indiana, rainfall totals of from 5 to 7 inches in the headwaters of the Muscatatuck River caused the streamflow station near Deputy to record a rise of nearly 22 feet in less than 8 hours.

After brushing Puerto Rico and causing major damage in the Virgin Islands on July 8, Hurricane Bertha hit North Carolina on July 12. Bertha and traveled rapidly up the East Coast to the Maritime Provinces of Canada on July 14. North Carolina and New England received up to 6 inches of rainfall from this storm, and localized flash flooding caused road closures, property damage, and evacuations between North Carolina and Vermont.

On July 16, there were reports of up to 7 inches of rainfall in San Saba County, Texas. Some flooding of homes resulted. On the night of July 16-17, heavy thunderstorms soaked parts of Iowa and Nebraska with from 4 to 12 inches of rain. In Sioux City, Iowa, reported 8.52 inches of rain in fell 6.5 hours. Many creeks and rivers were over flood stage. The Missouri River, which had been high previous to the rain, was again over flood stage from Ne/nwcastle, Iowa, to Waverly, Missouri. In Iowa on the Soldier River at Pisgah, and the Boyer River at Logan, new peaks of record, were recorded 0.8 feet and 4.1 feet above flood stage, respectively.

On July 17-18, the heavy rainfall moved eastward to southern Wisconsin, northern Illinois and Indiana. In Aurora, Illinois, 16.91 inches of rain fell in 24 hours. Most of the Chicago metropolitan area received from 6 to 12 inches of rain. The streamflow station on the Dupage River at Shorewood, Illinois, crested 7.54 feet above flood stage; this was almost 4.5 feet higher than the previous record peak in 1941. Other record peaks were measured on several other streams and rivers, including the Kishwaukee and the Pecatonica Rivers and Spring Brook. The Wabash River near Lafayette, Indiana, was expected to crest at about 7 feet above flood stage. A record high mean monthly flow for July was established at the index-gaging station on the Rock River near Joslin, Illinois--323 percent of the long-term July median. Additional information on the flooding in Illinois can be found on the Illinois District home page at URL="http://wwwdilurb.er.usgs.gov"

On July 18-19, the rains and flooding moved further eastward into Pennsylvania, West Virginia, and Maryland. In Williamsport and Clear Springs, Maryland, more than 2 inches of rain fell in 15 minutes. Roads and bridges were washed out in Crawford and Huntington Counties, Pennsylvania. Evacuations were necessary near Elkins, West Virginia. Eight counties in Pennsylvania were declared disaster areas. Seven flood-related deaths were reported from Missouri to Pennsylvania.

On July 25, a thunderstorm dropped about 5.5 inches of rain in 3 hours near Houston, Texas. Vehicles were swept off the highway by floodwaters near Crockett, Texas. On July 26, heavy rains of up to 7 inches hit Kansas and Oklahoma and resulted in flash floods. On July 29 in Putnam County, Tennessee, up to 5 inches of rain fell in just over 3 hours and flooded highways and some homes near Cookeville. On July 30, 6 inches of rain caused (2 inches had fallen in 45 minutes) Palo Duro Canyon State Park in west Texas to be closed; visitors had to be evacuated.

The combined flow of the three largest rivers in the lower 48 States-- the St. Lawrence, the Mississippi and the Columbia--seasonally declined 37 percent from last month to 1,179,100 cubic feet per second, which is 122 percent of the July median and in the above-normal range. The Mississippi River at Vicksburg, Mississippi, and the Columbia River at The Dalles, Oregon, declined 45 percent and 44 percent, respectively, from extremely high June levels and were still above normal at 125 percent and 124 percent of median flow, respectively.
---