U.S. Geological Survey
Environment Canada Climate Information Branch
---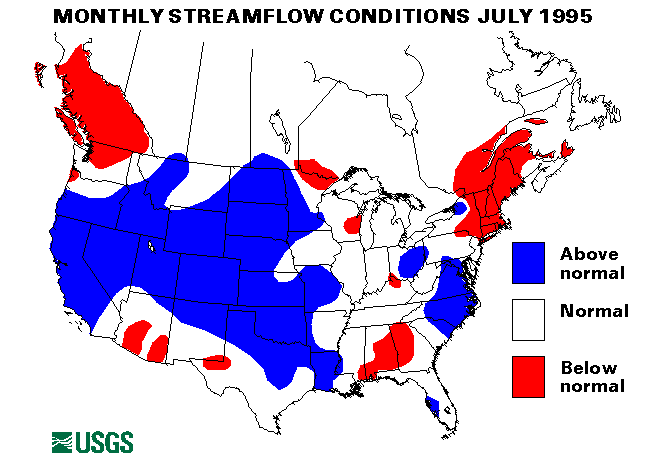 ---
Provisional data subject to review.
---
Conditions for the month of July 1995
Minor flooding continued in the Midwest during July. Heavy rains from thunderstorms from July 3 to 10 caused both the Mississippi River and the Missouri River to rise above flood stage. The heavy rains also caused some flooding on tributary streams and the Meremec River in Missouri, and the Big Muddy River in Illinois had some flooding problems caused by backwater from the larger rivers. The James River in South Dakota remained over flood stage all month. It showed small declines, but additional rainfall kept the flows over flood stage.

Flooding from snowmelt was a problem throughout much of the West, particularly in the Sierras. A heavy, late-melting snowpack caused bankfull or above flows on the Walker River in California and Nevada, the Wind River and Popo Agie River in Wyoming, and Castle Creek, Maroon Creek, and Roaring Fork River in Colorado. Six index-streamflow-gaging stations had record maximum July monthly mean flows. The Merced River at Happy Isles Bridge, near Yosemite, California, has a monthly mean flow 747 percent of the long-term (1961-90) July median. The Rio Grande River below Taos Junction Bridge, near Taos, New Mexico, was 703 percent of median. Other new maximums were West Walker River below Little Walker River near Coleville, California, 517 percent; Roaring Fork River at Glenwood Springs, Colorado, 393 percent; Animas River at Durango, Colorado, 318 percent; and Beaver River near Beaver, Utah, 292 percent.

Dry conditions prevailed across New York and New England. Streamflow in this area has been below normal since April. Flow in the Hudson River at Hadley, New York, was only 75 percent of the long-term July median. Storage in the New York Reservoir system was at 76 percent of capacity and voluntary water use restrictions were in force in New York City. New minimum July monthly mean flows were recorded at two index-streamflow-gaging stations: Massapequa Creek at Massapequa, New York, was at 22 percent of the long-term median and the Little Androscoggin River near South Paris, Maine, was at 31 percent. For more information see

URL="http://www.usgs.gov/press/public_affairs/releases/8-7-2.html"

On July 17 flows on the lower American River in California were higher than normal following the break of a spillway gate on Folsom Dam. No flooding occurred, but over 400,000 acre-feet of storage was lost from the dam.

On July 17, heavy rainfall (3.5 inches in Newark, New Jersey) caused street flooding in the New York City metropolitan area. Bucks County, Pennsylvania, had some minor flooding after approximately 5 inches of rain fell overnight.

Florida was hit by torrential rains over the period from July 18 to 26. Many areas received rainfall totaling 6 to 8 inches/nover 24 hours. Venice, Florida, received 13.8 inches of rain on July 18-19. Minor flooding was recorded on the Myakka River, the Peace River, the Upper Manatee River, and House Creek.

On July 20, heavy rainfall from slow-moving thunderstorms caused the Fishing River at Mosby, Missouri, to rise to almost 8 feet above flood stage. Overnight rainfall amounts were 4 to 5 inches.

On July 31, Tropical Storm Dean hit southeast Texas. Heavy rainfall of 8 to 10 inches fell in many locations causing flash flooding. Interstate 10 and Highway 61 were flooded and closed at many intersections.

The combined flow of the three largest rivers in the lower 48 states--the Mississippi, the St. Lawrence, and the Columbia--decreased 44 percent from last month to 1,180,800 cubic feet per second, which is 122 percent of the long- term July median and above normal. The Mississippi River at Vicksburg, Mississippi, decreased 50 percent from last month but was still 160 percent of median.
---