U.S. Geological Survey
Environment Canada Climate Information Branch
---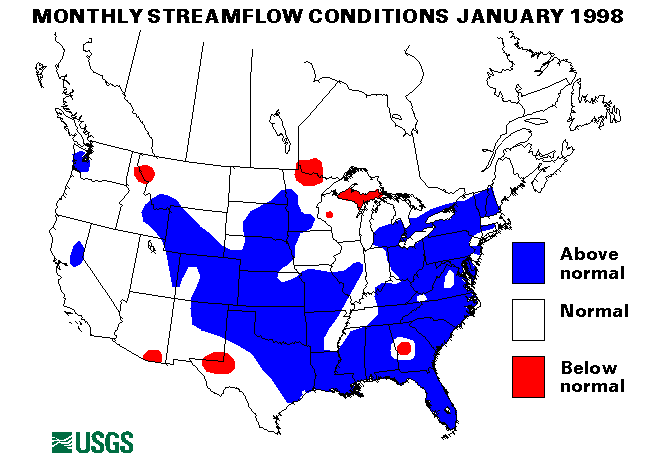 ---
Provisional data subject to review.
---
Conditions for the month of January 1998
Eastern Great Lakes Region
Heavy rains from January 3-6 caused minor flooding in parts of Indiana and Michigan. Rivers affected included the Maumee, St. Joseph, Wabash, and Tippecanoe Rivers. Snowmelt added to river levels along the upper Kankakee River in Indiana and Illinois.

Minor flooding along the Ohio River in Indiana and Illinois began on January 14 and continued to January 19.

Mid-Continent South Region
A slow moving cold front dropped heavy rainfall over much of East Texas on January 6. Four to 6 inches of rain fell in about 12 hours on already saturated ground. Many roads were closed and some evacuations were necessary. Rivers affected included the Sabine, Neches, Red, San Jacinto, Trinity, and Sulphur Rivers in Texas. In Oklahoma, major flooding was experienced along the Poteau River near Panama and the Illinois River near Tahlequah. Sandbagging was necessary to protect homes in Slidell, Louisiana. Lowland flooding affected recreational and industrial areas along the Amite, Tickfaw and Comite rivers in Louisiana.

Heavy rainfall from thunderstorms hit Beauregard and Oakdale Parishes in Louisiana on January 11-12 causing widespread flash flooding and aggravating existing high water conditions. Beauregard Parish was again hit with over 4 inches of rain on January 14 with resultant flash flooding.

Another storm system passed over the saturated areas of Texas, Arkansas, and Louisiana, on January 14 aggravating the existing flooding particularly in the Red River basin in Texas and Louisiana and the Arkansas River basin in Arkansas. Backwater flooding along the Red River continued through the end of the month. Low land flooding also continued along the Trinity, Sabine, and Sulphur Rivers in Texas.

Heavy rains on January 21-22 brought streams back to or over flood stage in Texas and Louisiana.

Mid-South Region
Parts of Alabama, Kentucky, and Tennessee, received from 5-8 inches of rain from January 6-8. In Alabama, flash flooding along the Fish River near Mobile necessitated evacuations. Somerset County, Kentucky, saw many roads and homes flooded. Sevier and Lincoln Counties in Tennessee also experienced severe flash flooding.

Alabama and Mississippi experienced heavy rainfall from a storm system on January 21-22. Widespread flash flooding was reported with river flooding following. The Tombigbee River in Alabama and the Big Black and Pearl Rivers in Mississippi were among those that rose above flood stage.

Southeast Atlantic Region
Up to 13 inches of rain fell in less than 24 hours in parts of the mountains of western North Carolina. Widespread flash flooding and mudslides damaged roads and homes and necessitated numerous evacuations. Flood peaks with recurrence intervals greater than 10 years were measured on many streams. The index streamflow station on the French Broad River at Asheville, North Carolina had a peak streamflow of 24, 600 cubic feet per second (ft3/s), which was between a 5-year and 10-year flood. For more information about flooding in North Carolina.

Heavy rainfall on January 16 caused flooding in Cabarus County, North Carolina, closing roads and bridges.

Heavy rainfall of over 3 inches fell over most of Florida, Georgia, South Carolina, and North Carolina from January 21-23. Rivers over the region rose to above flood stage. Among the rivers affected were the Appalachicola, Myakka, and Sante Fe Rivers in Florida, the Altamaha, Oconee, Ocmulgee, and Savannah Rivers in Georgia, the Edisto and Ogeechee Rivers in South Carolina, and the Cape Fear, Neuse, and Tar Rivers in North Carolina. Rivers remained high through the end of January.

Another storm system dropped 2 to 3 inches of rain on Virginia, North Carolina, South Carolina, and Georgia on January 28 which aggravated the already existing flooding problems. The Santee River in South Carolina and the James and Dan Rivers in Virginia were most affected. Heavy snowfall over the Appalachians followed by rapid snowmelt contributed to flooding in Virginia and West Virginia in the Potomac River basin.

Florida has experienced flooding is some areas since mid-December and the almost constant series of storms kept rivers high. The Santa Fe River and Peace River have been at or above flood stage throughout this period.

New York and New England Region
Snowmelt and heavy rainfall on January 7-9 caused record flooding in New York. A flow of 11,000 cubic feet per second (ft3/s), was measured at the Hudson River near Ne/nwcomb, New York on January 9 which was estimated to have a recurrence interval greater than 100 years. Flood peaks with recurrence intervals greater than 50 years were recorded along the Black River. High flows were also measured along the Mohawk and Hudson Rivers. For more information see (http://water.usgs.gov/nwc/NWC/alert/NY_jan98.html).

Mid-Continent North Region
Some flooding due to ice jams was experienced along the South Platte River beginning on January 12. By January 28 a 2-3 mile long ice jam had formed south of Fremont, Nebraska which caused persistent lowland flooding.

Southwest Region
On January 16, the southern Sierra Nevada foothills received 1-4 inches of rain causing flooding in Merced and Mariposa, California.

Northern California continued to be hit with a series of Pacific storms. Urban flooding in the San Fransisco area required some evacuations on January 19.

Heavy rainfall hit California again on January 29. Enterprise, California, had some minor residential flooding from Churn Creek. Widespread urban and small stream flooding was experienced.

Intermountain West Region
Ice jams along the Missouri River caused minor flooding in the Great Falls, Montana, area on January 16.

Alaska
Three of the four streamflow index stations in Alaska are below normal for January. The exception is the Little Susitna River near Palmer, Alaska, which was above normal flow for January.

Puerto Rico
Both streamflow index stations in Puerto Rico were below normal flow in January.
---