U.S. Geological Survey
Environment Canada Climate Information Branch
---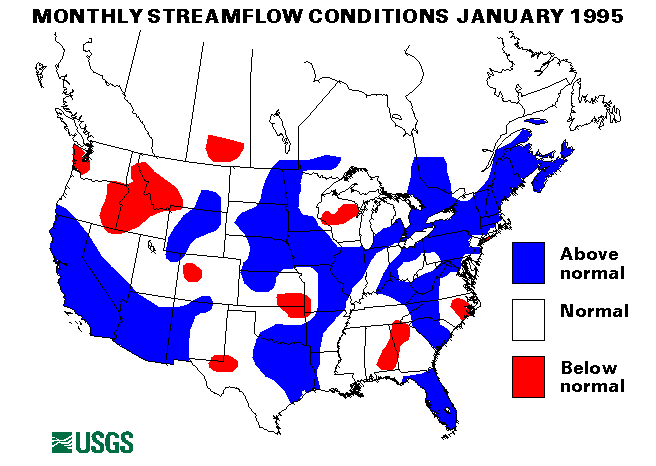 ---
Provisional data subject to review.
---
Conditions for the month of January 1995
Heavy rains throughout California caused extreme flooding problems from January 3-28. Problems included flash floods, urban flooding, major river flooding, and mud slides. A series of major Pacific storms hit both southern and northern California with extremely heavy rainfall. Thirty-four counties were declared Federal disaster areas. Monthly rainfall totals included 12.56 inches in Los Angeles (523 percent of normal), 8.80 inches in San Fransisco (205 percent), 8.06 inches in San Diego (344 percent), 12.35 inches in Sacramento (321 percent), and 34.36 inches at Blue Canyon (244 percent). Brandy Creek in Shasta County received 17.36 inches of rain in a 48-hour period from January 9-10.

Rivers were above flood stage all across the state. Record peak discharges were recorded on the Carmel River, San Jose Creek near Goleta, Bean Creek near Scotts Valley, and on the Russian River. The peak discharge on the Russian River at Healdsberg, California, was approximately 73,100 ft 3/s on January 9. This flow was 1,800 ft 3/s over the previous peak for the 55-year period of record, and approaching the 100-year flood of 88,400 ft 3/s. Several gaging stations were destroyed by the floodwaters. Many evacuations, road closures, and a few deaths were reported due to the extreme weather conditions and widespread flooding.

Minor flooding occurred throughout much of the east, southeast, and midwest January 14-17. Heavy rainfall of 2-9 inches was reported in Indiana, Illinois, Ohio, West Virginia, Virginia, Kentucky, North Carolina, and Georgia. The New River Basin in Virginia was particularly hard hit with peak flows recorded with over 50-year-recurrence intervals at the gaging stations on the New River at Galax and Allisonia, Virginia. Some flooding persisted on the major rivers such as the Wabash in Indiana and Illinois, and the James in Virginia through January 23.

Snowmelt and heavy rain caused flooding in northern New England. From January 16-17, Caribou, Maine, lost 25 inches of a 35-inch snow cover. In addition, 2.35 inches of rain fell during that period. Flooding was widespread on many smaller rivers in Maine and New Hampshire. A new maximum monthly mean flow for January was established at the index gaging station on the St. John River below Fish River at Fort Kent, Maine.

Other new maximum January monthly mean flows were recorded at index gaging stations at Lynches River at Effingham, South Carolina, St. Johns River near Christmas, Florida, Buffalo River near Dilworth, Minnesota, and Neches River near Rockford, Texas. Flow rates and hydrographs for these stations are found elsewhere in this document.

Drought conditions continued in Puerto Rico. The index gaging station on the Rio Grande de Manati at Highway 2, near Manati, Puerto Rico, set the 11th new minimum monthly mean flow in the last 16 months in January.

The combined flow of the three largest rivers in the lower 48 states--the Mississippi, the St. Lawrence, and the Columbia--decreased by 7 percent from last month to 907,620 ft 3/s. This flow is 93 percent of the long-term January median and in the normal flow range.
---