U.S. Geological Survey
Environment Canada Climate Information Branch
---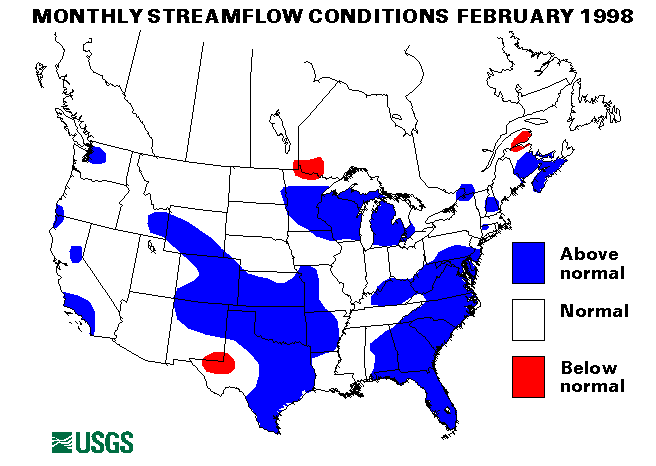 ---
Provisional data subject to review.
---
Conditions for the month of February 1998
Southeast Atlantic Region
Flooding from the storms in late January continued into february in the entire region from Florida northward into Virginia. Heavy rainfall on February 3-4 aggravated these flooding conditions. Georgetown, South Carolina, received 3 inches of rain in 3 hours and from 4-6 inches of rain fell in 24 hours over much of North Carolina. Some of these areas also had snowpack which rapidly melted under the heavy rain. Among the rivers over flood stage were the Myakka, Peace, Apalachicola, St. Mary's, Sante Fe and Suwanee in Florida, the Ogeechee, Chattahooche, Ocmulgee, Oconee, Flint, Altamaha, and Etowah in Georgia, the Pee Dee, Santee, Congaree, Edisto, Catawba, and Waccamaw in South Carolina, the Lumber, Neuse, Tar, and Little in North Carolina, and the James and Roanoke in Virginia.

From 3 to 7 inches of rain fell across parts of northern Florida on February 17-18 causing small stream flooding and aggravating the existing flooding in the major rivers. Evacuations and road closures were necessary along the Suwanee River.

Rainfall over the weekend of February 21-24 kept major rivers above flood stage. The Cape Fear River in North Carolina flooded lowland areas and closed several roads.

Many major rivers throughout the region were near or above flood stage for the entire month of February. The Suwanee River in Florida was expected to rise to its highest level in the last 50 years. The Sante Fe River also in Florida was higher than it has been in 20 years.

Southwest Region
Significant flooding hit California on February 3. Most of the small rivers and streams in northern California had flooding problems. The San Fransisco Bay area and the Los Angeles metropolitan area were also hard hit. Evacuations were necessary in Tehama county following a levee failure. The Pajano River at Chittenden, California exceeded its record flood peak by 4 feet. Major flooding also occurred along the Napa and Russian Rivers. Evacuations were also necessary along the Santa Ynez River at Vandenberg Air Force Base.

Another round of storms hit california on february 6-8. Parts of Santa Barbara and Ventura Counties received as much as 4 inches of rain on February 7. Many small streams including Mission Creek, Sycamore Creek and San Jose Creek were flooding in Santa Barbara County. Evacuations were necessary and the Santa barbara airport was closed for a time. Small streams in Ventura County flooded including Callegues Creek, Santa Anna Creek, and the Ventura River. The Petaluma River in Sonoma County was also above flood stage. Mud slides caused by the heavy rain closed many highways.

In the first two weeks of February heavy rains, flooding, and landslides caused 10 storm-related deaths and hundreds of millions of dollars in damages across California. 31 counties were declared Federal disaster areas.

Storms continued to batter California over the weekend of February 21-24. Small stream flooding closed highways along the Ventura River and mudslides closed highways in Orange County. Two California Highway patrolmen were killed when their vehicle fell into the Cuyama River as they were attempting to close a highway.

For more information regarding the floods in California.

Mid-Continent North Region
Flooding from an ice jam on the Platte River in Nebraska continued into February. The flooding affected lowlands and slowly receded as the ice jam eroded.

Flooding conditions due to spring melt and rainfall began in the Red River basin earlier than normal. Flood peaks are expected to be much lower than the record levels of last Spring.

Mid-South Region
Flooding also continued into February along major rivers in Mississippi, Alabama, and Tennessee. The Pearl River in Mississippi, the Tombigbee, Coosa, Alabama, and Choctawatchee Rivers in Alabama, and the French Broad and Nolichucky Rivers in Tennessee were above flood stage. heavy rains on February 3 on the snowpack in the mountains of Tennessee caused rapid rises in the local creeks and rivers.

Mid-Continent South Region
On February 10-11, heavy rains hit parts of Texas and Arkansas causing widespread flash flooding.

New England and New York Region
Heavy rains of up to 4 inches from a strong Nor'easter off the New England coast caused flash flooding in many parts of Massachusetts on February 25.
---