U.S. Geological Survey
Environment Canada Climate Information Branch
---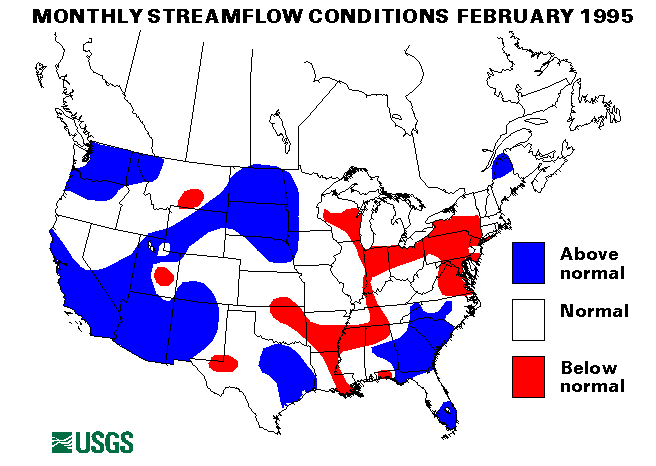 ---
Provisional data subject to review.
---
Conditions for the month of February 1995
Heavy rains and snowmelt caused flooding in the Northwest from February 1-3. Minor flooding occurred from the Sacramento River in northern California, through Oregon and Washington, and into northern Idaho and western Montana. The Grande Ronde and Umatilla Rivers in Oregon and Klickilat and Yakima Rivers in Washington were particularly affected. Rainfall amounts during this period included 4.08 inches in Quillayute, Washington, 2.94 inches in Eureka, California, and 2.29 inches in Salem, Oregon. Additional minor flooding was experienced in this same area on February 17-18.

Very heavy rains in southern California, Arizona, and southwestern Utah caused flash flooding from February 13-15. Rainfall amounts included 6.88 inches at Mount Palomar, California, and 3.07 inches at Flagstaff, Arizona. Record flows were recorded on the Verde River at Camp Verde, Arizona. Many roads were closed and some evacuations were necessary.

Rainfall amounts of up to 10 inches caused flash flooding and river flooding over much of the southeastern United States from February 13-21. Minor flooding was experienced on many rivers and streams from Texas to North Carolina. Roads and bridges were washed out in Alabama and Georgia. Flooding was recorded on the Flint River and Altamaha River in the same areas heavily flooded last summer.

On February 23-24, some minor flooding due to ice jams was noted in Iowa and North Dakota. The Iowa and Racoon Rivers in Iowa and the Heart and Knife Rivers in North Dakota were particularly effected.

Heavy rains in Puerto Rico on February 27-28 caused some flash flooding and helped moderate the long-standing drought conditions. The index gaging station of the Rio Grande de Manati at Highway 2, near Manati, Puerto Rico, was still below normal flow for the 17th consecutive month.

New record monthly maximum flows for February were set at index gaging stations on the Pecos River near Pecos, New Mexico, and on the Skykomish River near Gold Bar, Washington. A new record monthly minimum flow for February was set at the station on Massapequa Creek, Massapequa, New York.

The combined flow of the three largest rivers in the lower 48 states-- the Mississippi, the St. Lawrence, and the Columbia--increased by 11 percent from last month to 1,008,400 cubic feet per second. This flow is 97 percent of the long-term February median and in the normal flow range. The Columbia River flow increased by 73 percent and was 148 percent of median and above normal.

Levels of the Great Lakes remained near normal. Lake Ontario was below median but still in the normal range. Lakes Erie, Huron, and Superior were near median levels. The Great Salt Lake in Utah showed a seasonal increase in level.
---