U.S. Geological Survey
Environment Canada Climate Information Branch
---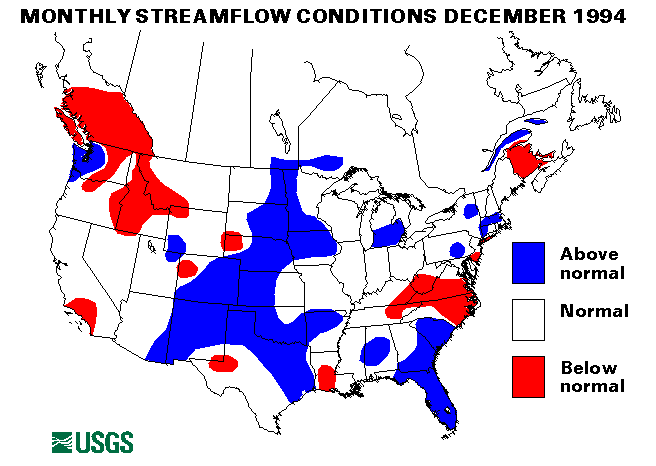 ---
Provisional data subject to review.
---
Conditions for the month of December 1994
Heavy rainfall caused severe flash flooding in southeastern Mississippi on December 3, 1994. In Gulfport, Mississippi, 6.16 inches (in.) of rain fell from 9:00 p.m. December 2 to mid-day December 3. Over 200 people were evacuated from their homes

Heavy rain and warmer temperatures melted heavy snowpack and caused severe flooding in western Washington and Oregon from December 15 to 25. Flooding was particularly severe on the Nehalem and Siuslaw Rivers in Oregon and the Willapa, Satsop, Chehalis, and Skokmish Rivers in Washington. Many people had to be evacuated by boat and helicopter. Rainfall amounts up to 7.69 in. at Aberdeen, Washington were recorded. Flood flows of over a 100-year recurrence interval were recorded at the Willapa River near Willapa, Washington and the Satsop River near Satsop, Washington streamflow index gaging stations. The gaging station at the Skokmish River near Potlatch, Washington recorded a record stage but peak discharge has not yet been determined.

Heavy rains in South Carolina from December 23 to 24 caused flooding on most of the coastal plain rivers. Rainfall totals reached 7.11 in. in Florence, South Carolina and 5.02 in. in Columbia, South Carolina. Two fatalities were reported. Dozens of people had to be evacuated and at least three small dams failed.

Drought conditions continued in Puerto Rico. The streamflow index gaging station on the Rio Grande de Manati at Highway 2, near Manati, Puerto Rico set the tenth new minimum monthly mean flow in the last fifteen months in December.

Drought conditions also persisted in Idaho and Montana. The following streamflow index gaging stations have had below normal flow for at least six consecutive months:

Salmon River at White Bird, Idaho
Yellowstone River at Corwin Springs, Montana
Clark Fork at St. Regis, Montana
Middle Fork Flathead River near West Glacier, Montana
Columbia River at The Dalles, Oregon

The combined flow of the three largest rivers in the lower 48 States--the Mississippi, the St. Lawrence, and the Columbia--increased by 31 percent from last month to 972,450 ft 3/s. This flow is 105 percent of the long-term December median and is in the normal flow range.

New record maximum December monthly mean flows were set at the Lynches River at Effingham, South Carolina, St. John's River near Christmas, Florida, Red Cedar River at East Lansing, Michigan, Buffalo River near Dilworth, Minnesota and Elkhorn River at Waterloo, Nebraska streamflow index gaging stations. Flow rates and hydrographs are found elsewhere in this document.
---