U.S. Geological Survey
Environment Canada Climate Information Branch
---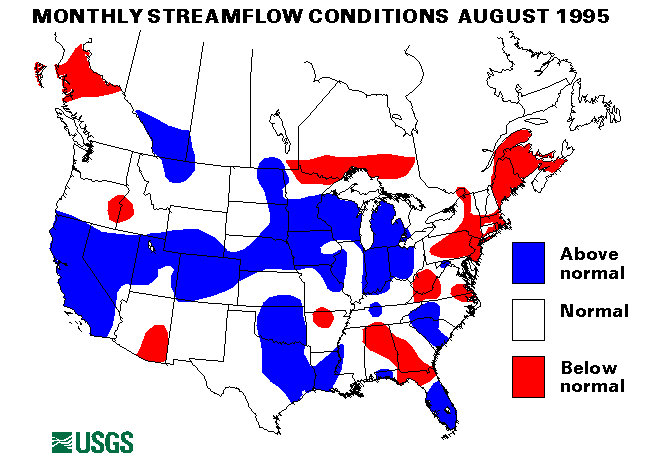 ---
Provisional data subject to review.
---
Streamflow Conditions for the month of August 1995
In August hurricanes Erin and Felix and tropical storms Dean, Gabriel, and Jerry affected weather and surface-water conditions over much of the Eastern United States. Dean, Erin, Felix, Gabrielle, and Jerry all had some effects.
From August 1 to 5, Tropical Storm Dean and its remnant moisture spread heavy rain from Texas to New England. Rainfall totaled 14.82 inches in Vernon, Texas. Dangerous flooding and flash flooding closed roads and forced evacuations in Texas and Oklahoma. As the remnants of the storm moved north, South Bend, Indiana, received 4.85 inches of rain on August 2-3, and from 3 to 5 inches of rain fell in central Vermont on August 4.
Hurricane Erin and its remnant moisture caused heavy rainfall from August 2, when it first came ashore in Florida, through August 6, when the remnant low moved off the East Coast through the Delmarva Penisula. Erin spread heavy rain through Florida, Alabama, Mississippi, Arkansas, Tennessee, Indiana, Ohio, Kentucky, West Virginia, Maryland, Virginia, Pennsylvania, New Jersey, and Delaware. Flash flooding closed highways and forced some evacuations.
On August 11 Tropical Storm Gabrielle, which came ashore in Mexico, caused heavy rainfall in the Rio Grande Valley of Texas; Brownsville, Texas, received 4 inches of rainfall. Remnant moisture caused heavy thunderstorms in New Mexico on August 15.
Hurricane Felix stalled off shore near Cape Hatteras, North Carolina, on August 16, and some heavy rain and flash flooding, Occurred along the coast of the Mid-Atlantic States, as well as high surf and beach erosion. Felix eventually moved back to sea on August 18 and did not cause any serious problems.
Tropical Storm Jerry, however, caused serious flooding in Florida, Georgia, South Carolina, and North Carolina. Jerry came ashore in Florida early on August 24, tracked northwestward into Georgia, and then moved eastward back out to sea through South Carolina on August 28. Storm totals of rainfall included 16.47 inches in Greenville, South Carolina, and 12.43 inches in Savannah, Georgia. West Palm Beach, Florida, received 9.90 inches of rain on August 24. Naples, Florida, recorded over 12 inches of rain on August 25. Flooding was generally mild to moderate because of very dry conditions before the storm in Georgia and the Carolinas, but the Ogeechee and the Savannah Rivers in Georgia, the Neuse, the French Broad, the Warned, the Lynches, the Black, the Little Pee Dee, the Pee Dee, and the Waccomaw Rivers in North Carolina, and the Saluda, the Edisto, the Broad, and the Congaree Rivers in South Carolina experienced stages/nover flood stage. On some tributary streams in North Carolina, floods exceeded the 100-year-recurrence interval. Four deaths were attributed to the flooding in North Carolina. More information on the flooding in North Carolina
Other flash flooding occurred that was not related to these tropical storms. On August 7, over 8 inches of rain caused flooding on the Browns and Seymour Rivers in northern Vermont. One person died as a result of these floods. Three people died when their car was washed off a road along Lick Run in Scioto County, Ohio following a heavy rainstorm of 3-5 inches on August 10.
Heavy rainfall from thunderstorms caused flash flooding in Wisconsin, Ohio, Michigan, Indiana, and Illinois on August 17-18. More than 6 inches of rain was reported in some areas. In North Dakota, local rainfall was reported to be as much as 8 inches on August 18. These heavy rains caused a great deal of local flash flooding.
On August 22 and 23, heavy rainfall from thunderstorms caused flash flooding in California, Arizona, New Mexico, Nevada, and Utah. On August 22, parts of Nebraska received more than 7 inches of rain, which caused flooding on the Elkhorn and the Niobrara Rivers.
On August 30, heavy rainfall in Wisconsin caused a dam to fail near Mount Morris. Flooding along Willow Creek was moderate but did continue until August 31.
In the Northeast, drought conditions continued through August. Two new minimum August monthly means were set at index-gaging stations. Massapequa Creek at Massapequa, New York, was only 10 percent of the August median, and the Meherrin River near Lawrenceville, Virginia, was at 20 percent of median. All though not new minimums. the Delaware River at Trenton, New Jersey, was only 68 percent of median; the Susquehanna River at Harrisburg, Pennsylvania was 55 percent of median; and the St. John River below Fish River at Fort Kent, Maine was 38 percent of long-term median. More information on the Northeast, drought
New maximum August monthly means were set at the following index gaging stations: the North Bosque River near Clifton, Texas, the Big Sioux River at Akron, Iowa, the Chippewa River at Chippewa Falls, Wisconsin, the Roaring Fork River at Glenwood Springs, Colorado, the Whiterocks River near Whiterocks, Utah, and the Beaver River near Beaver, Utah. The last three sites reflect late-melting snowpack in the Rockies.
The combined flow of the three largest rivers in the lower 48 States-- the Mississippi, the St. Lawrence, and the Columbia--decreased seasonally 24 percent from last month to 894,600 cubic feet per second, which is 115 percent of the long-term August median and above normal. The Mississippi River at Vicksburg, Mississippi, decreased 26 percent from last month but was still 149percent of median.
---