U.S. Geological Survey
Environment Canada Climate Information Branch
---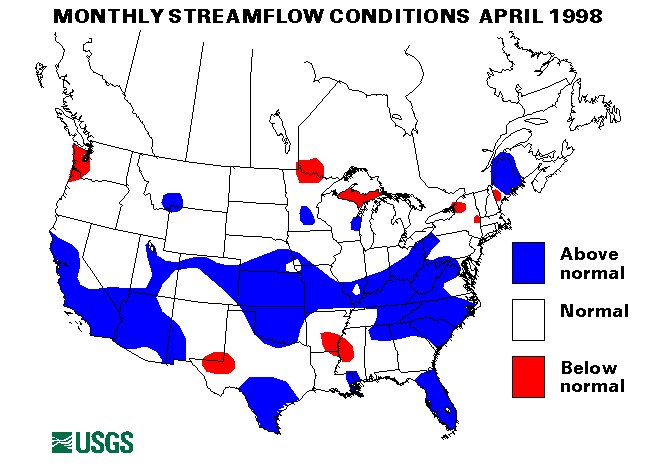 ---
Provisional data subject to review.
---
Conditions for the month of April 1998
New York and New England Region
Warm temperatures melting snow coupled with over an inch of rain caused flooding in the upper Androscoggin River basin in New Hampshire on March 31-April 1. A flood estimated over a 500-year recurrence interval was measured on the Diamond River near Wentworth Location, New Hampshire. A flood peak of record (over 83 years) was also measured on the Androscoggin River at Gorham, New Hampshire. This peak was estimated to be a 50-year event. For more information see (http://water.usgs.gov ws/NW C/alert/NH_31mar98.html). Flooding was also experienced along the Connecticut River in New Hampshire, Vermont, Massachusetts, and Connecticut, Lake Champlain in Vermont and New York, and the Black, Hudson, Salmon, and Saranac Rivers in New York. The Aroostook and Kennebec Rivers in Maine were also above flood stage. Flooding continued through April 5 on most of these rivers. Lake Champlain crested just below the record of 101.89 feet on April 7.
Eastern Great Lakes Region
Heavy rains on April 2 caused flash flooding and evacuations in Alpena County, Michigan.
Heavy rain on April 9-10 caused widespread flooding across Indiana. Flooding was reported on the Eel, Kankakee, Maumee, St. Joseph, Tippecanoe, Wabash, and White Rivers.
Very heavy rainfall on April 15, with as much as 6 inches reported in some locations caused flooding across southern Indiana and Ohio. The Little Miami River in Ohio reached the highest level since 1964. Evacuations were necessary in South Lebanon, Ohio, and in Whitehall, Ohio. The Wabash River in Indiana was from 1-4 feet above flood stage on April 17.
Heavy rains from April 19-21 caused the Muskingum River and small streams to flood in Coshocton County, Ohio.
Mid-Continent South Region
The Mississippi River was at or above flood stage from southern Illinois/Missouri downstream to Baton Rouge, Louisiana, for most of the month. Flooding was minor and mostly affected low-lying agricultural areas. On April 9, the flood crest was at Cape Girardeau, Missouri, and Thebes, Illinois. On April 13 the crest was above Windfield, Missouri. A second crest moved down the River from Quincy, Illinois through the confluence with the Ohio River from April 16-20.
Minor flooding due to heavy rain across the upper Midwest also was experienced along the Missouri River from Rulo, Nebraska, downstream to the confluence with the Mississippi from April 7-30.
Up to 3 inches of rain caused localized flooding in parts of Missouri on April 13-14.
Minor flooding was also experienced along the Atchafalaya River in Louisiana, from April 15-30.
Heavy rainfall on April 25-27 caused isolated flash flooding problems i Oklahoma and northern Texas. Parts of Oklahoma received up to 6 inches of rain on April 27. four people were reported drowned when vehicles were washed into swollen creeks near Tulsa and Stratford, Oklahoma. Major flooding was reported along Bird and Polecat Creeks in Oklahoma.
Mid-Continent North Region
On April 6, 2 to 4 inches of rain fell overnight across parts of Iowa and Nebraska causing flash flooding problems on small creeks and streams. some minor agricultural flooding occurred along the Des Moines and North Raccoon rivers in Iowa.
On April 9, most locations from Dubuque, Iowa, downstream to the confluence with the Ohio River were above flood stage along the Upper Mississippi River. Most flooding was moderate. On April 17, additional rains had pushed the river to higher stages. The Mississippi River at Davenport, Iowa was 2 feet above flood stage. The station at Hannibal, Missouri was 7 feet over flood stage and the 5th highest flood on record.
Heavy rainfall across parts of Nebraska and Kansas on April 25-26 caused isolated flash flooding. On April 29 flooding affected several roads and homes along the Neosho River in Kansas.
Southeast Atlantic Region
On April 9, heavy rains in North Carolina caused flooding and forced evacuations along Briar Creek in Mecklenburg County.
On April 17, Dawson, Lumpkin, and White Counties in Georgia, received 2-3 inches of rain which flooded roads and some houses and businesses.
Roads were flooded along the Powell and Clinch Rivers in Virginia on April 18 due to heavy rains across the state.
A storm system moved up the Atlantic coast on April 22-23 causing minor flooding in Georgia, South Carolina, North Carolina and Virginia. Rivers affected included the Altamaha, Flint, Ocmulgee, Oconee, and Savannah Rivers in Georgia, the Congaree, Edisto, and Pee Dee Rivers in South Carolina, the Cape Fear and Lumber Rivers in North Carolina and the Dan and James Rivers in Virginia.
On April 30, the Santa Fe River in Florida fell below flood stage for the first time since mid-December.
Western Great Lakes Region
Heavy local rains, tributary inflows, and backwater from the Mississippi caused minor flooding along the Ohio River in Illinois from April 15-30. On April 28, flooding affected roads and parks along the Kaskaskia River in Illinois.
Two to four inches of rain fell in Lincoln and Brighton, Illinois, on April 29 causing isolated flash flooding.
Mid-South Region
Heavy rain from thunderstorms hit southwest Kentucky and middle Tennessee on April 16-17. Pike County, Kentucky, reported nearly 6 inches of rain. A mudslide 5 miles west of Hyden, Kentucky, closed a highway. Flash flooding was widespread throughout the region.
On April 19, heavy rains caused flash flooding over most of Kentucky. Several roads were closed and mudslides were also reported.
On April 21, heavy rains over east Tennessee cause widespread flash flooding. The West Chickamauga Creek in Hamilton County was especially affected.
Puerto Rico
The streamflow index station at Rio Inabon at Real Abajo, Puerto Rico set a new maximum April mean monthly flow of 35.6 cubic feet per second which was 614 percent of long-term median. The other streamflow index station, Rio Grande De Manati, at highway 2, near Manati, Puerto Rico, had normal flow.
Alaska
Three of the four streamflow index sites in Alaska had above normal flow for April. The Tanana River at Nenana, Alaska, was in the normal range.
---