The USGS provides practical, unbiased information about the Nation's rivers and streams that is crucial in mitigating hazards associated with floods. This site provides information about the USGS activities, data, and services provided during regional high-flow events, such as hurricanes or multi-state flooding events. The USGS response to these events is typically managed by the National Floods Specialist.
USGS scientists, engineers, and technicians worked along the Gulf coast in response to Hurricane Isaac, deploying and maintaining storm tide sensors real-time streamgages in anticipation of Isaac's arrival. The USGS, in concert with our partners, is providing scientific assessments of the challenges wrought by Isaac.
Hurricane Isaac Reports: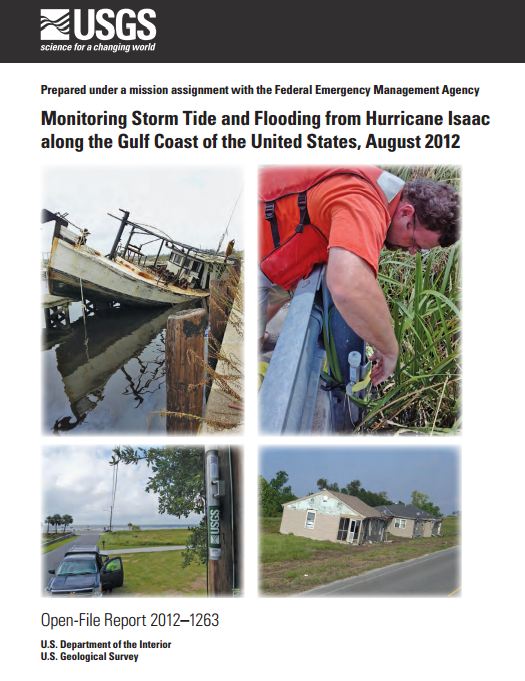 USGS Open File Report: Monitoring Storm Tide and Flooding from Hurricane Isaac along the Gulf Coast of the United States, August 2012
: a report prepared under a mission assignment with the Federal Emergency Management Agency detailing coastal area data collection by the USGS.
The data from the Hurricane Isaac storm-tide network constitute an extensive collection of continuous water-level records documenting a single, landfall hurricane. The data can be used to evaluate the performance of storm-tide models for maximum and incremental water level and flood extent and for site-specific effects of storm tide on natural and anthropogenic features of the environment.
Tools and Information:
Storm Tide Mapper - Get real-time map-based info from USGS storm tide sensors. Brought to you by the Wisconsin Internet Mapping Group. Click here for a list of streamgages deployed to monitor Hurricane Isaac.
Coastal Change Impact - St. Petersburg Coastal and Marine Science Center: Hurricane Isaac: Assessment of Potential Coastal-Change Impacts
USGS Activities in the News: