USGS scientists, engineers, and technicians worked along the eastern U.S. coast in response to Hurricane Irene, deploying stage sensors and rapid deployment real-time streamgages and flying oblique aerial photography of the coastline in anticipation of Hurricane Irene's arrival. The USGS made storm tide, streamflow, and water quality measurements related to hurricane floods and provided geospatial products of Hurricane Irene's movement and the storm aftermath. USGS scientists assessed landslide potential for areas in the path of Hurricane Irene's rainfall.
Hurricane Irene Reports: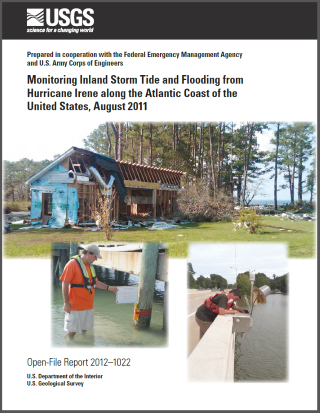 Monitoring inland storm tide and flooding from Hurricane Irene along the Atlantic Coast of the United States, August 2011: U.S. Geological Survey Open-File Report 2012-1022:
A report prepared in cooperation with the Federal Emergency Management Agency and the U.S. Army Corps of Engineers.
USGS Activities in the News: