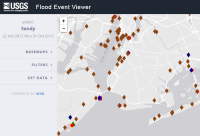 The USGS Flood Event Viewer provides convenient, map-based access to storm-surge and other event-based data collected by the USGS Short-Term Network (STN). The USGS streamgage network is the largest streamgage network in the US, but even with over 8,000 real-time stations, more data is needed for certain storms. During large events, the USGS collects additional data (high-water marks, additional sensor deployments) to aid in documenting high-water events.
The Flood Event Viewer (FEV) application and Short-Term Network (STN) database are designed to encourage, but not require, repeated visits to temporary sensor deployment (wave or water level) or HWM locations. By developing a system that encourages repeated, as-needed deployments in the same locations, it facilitates the development of longer-term datasets of storm events than would be feasible by relying on field personnel's memories of previous deployments or interpretations of paper records alone. Such efficient, responses have become a cornerstone of the USGS Hazards Response.
Many ways to access flood event data, brought to you by the Wisconsin Internet Mapping Group (WiM):
Suggested Citation
U.S. Geological Survey, [year], Short-Term Network Data Portal, accessed on [full-date], at http://water.usgs.gov/floods/FEV/
Please reference the USGS Flood Event Viewer in all publications that use data from this system.
Development History
The USGS Short-Term Network (STN) project evolved from a small database designed to support a small cooperative flood response project to a national-scale application and database supporting the USGS Storm-Tide Program and High-Water Mark (HWM) data collection efforts.
Data dissemination tools were developed initially for USGS Hurricane Irene storm-tide monitoring data (2011) and further refined for Hurricanes Isaac and Sandy in 2012. The coastal and riverine projects were combined, due to similarities in data collection needs, into the STN.
The STN has recently been upgraded to support the USGS Surge, Wave, and Tide Hydrodynamic (SWaTH) Network in the Northeast to help the USGS prepare for the next storm response.