The USGS Water Science School
Reclaimed wastewater:
Using treated wastewater for other purposes


With the scarcity of water in some parts of the U.S. and with water conservation being so important nowadays, the reuse of treated wastewater is becoming more important. No, you don't have to worry about your drinking water at home coming right from a sewage-treatment plant (although a successful test of this has been done!!), but treated wastewater is being used for certain purposes throughout the country.
---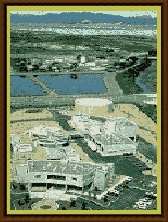 The use of reclaimed wastewater helps people in two ways:
Reclaimed water can supply needed water for some purposes
Reclaimed wastewater frees up fresh water that can be used somewhere else, such as for drinking water
California is a good place to go to see how reclaimed wastewater is being used. The East Bay Municipal Utility District has a working water reclamation project that benefits the community in these ways:
Conserves drinking water
Reduces pollution into San Francisco Bay
Provides water for irrigation and industrial purposes
Their project results in a savings of about 5.5 billion gallons per year. Eventually the project will save enough water to provide drinking water to 83,000 households.
So, what exactly is reclaimed wastewater used for? A lot of it goes toward watering golf courses and landscaping alongside public roads, etc. Some industries, such as power-generation plants can use reclaimed wastewater. A lot of water is needed to cool power-generation equipment, and using wastewater for this purposes means that the facility won't have to use higher-quality water that is best used somewhere else.
Related topics:
Wastewater water use

Visit a wastewater-treatment plant