No doubt the first public-supply water system was when Jack the Caveman was hired by his neighbors to fetch a bucket of water from Dinosaur River in exchange for some delicious prehistoric bran muffins. If you read our fictional tale about starting a new town in the desert, you'll see that even in a town with a population of one person, a plan to get, use, and dispose of water is always needed. Public and private water-supply organizations that get water, clean it and deliver it to local residents exist anywhere people exist.
Public water-supply systems, which you might know better as the county and city water departments, are vitally important to all populations. These are government or privately-run facilities that withdraw water from rivers, lakes, reservoirs, and wells and then deliver it to our homes, businesses, and schools. The majority of the population (about 86 percent) of the United States nowadays gets their water in this manner. You probably get your home drinking water this way. In the past, when the population was a lot more rural, people used to have to dig their own wells and create storage tanks for their water supply. But with large numbers of people living in bigger cities the public-supply systems do that work for us. All we do is turn on the tap ...oh, and pay the bills.
For this site, public supply refers to water withdrawn by public and private water suppliers that provide water to at least 25 people or have a minimum of 15 connections. Public-supply water is delivered to users for domestic, commercial, and industrial purposes, and also is used for public services and system losses.
Public-supply withdrawals for the Nation, 2010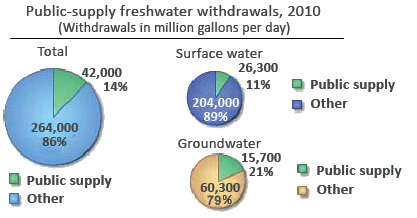 Approximately 42,000 Mgal/d, or 47,100 thousand acre-ft/yr, of water were withdrawn for public supply in 2010. This amount is 5 percent less than the estimated amount of water withdrawn for public supply in 2005. Public supply represents about 14 percent of total freshwater withdrawals and 22 percent of all withdrawals excluding thermoelectric power. In some States, public-supply water sources include desalinated seawater or brackish groundwater that has been treated to reduce dissolved solids. A combined total of 23.5 Mgal/d saline surface-water withdrawals for public-supply use were reported in Florida, the U.S. Virgin Islands, Massachusetts, and Texas. A combined total of 317 Mgal/d saline groundwater withdrawals for public-supply use were identified in Florida, California, Texas, Virginia, and Utah. Because these saline withdrawals were identified for only seven States and represent less than 1 percent of total public-supply withdrawals, they are not listed separately in table 5 but were included in the calculations.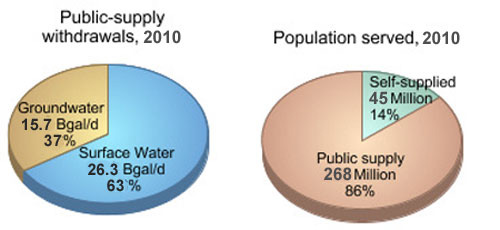 Public-supply water withdrawals and populations for the United States in 2010
(Populations are in thousands; water withdrawals, deliveries, and use are in million gallons per day (Mgal/d)
Numbers are rounded.)
Population
Water withdrawals
Public-supply deliveries
Total
Served by public-supply
Percent population served
Ground-
water
Surface
water
Total
Domestic use
Domestic use
(percent)
313,000
268,000
86
15,700
26,300
42,000
23,800
57
Public-supply withdrawals, by State, 2010
As time has gone by, more and more people have been served by the Nation's water departments. In 2010, about 268 million people of the Nation's total population of about 313 million were served in this manner. The map below shows the amount of public-supply withdrawals by State for 2010.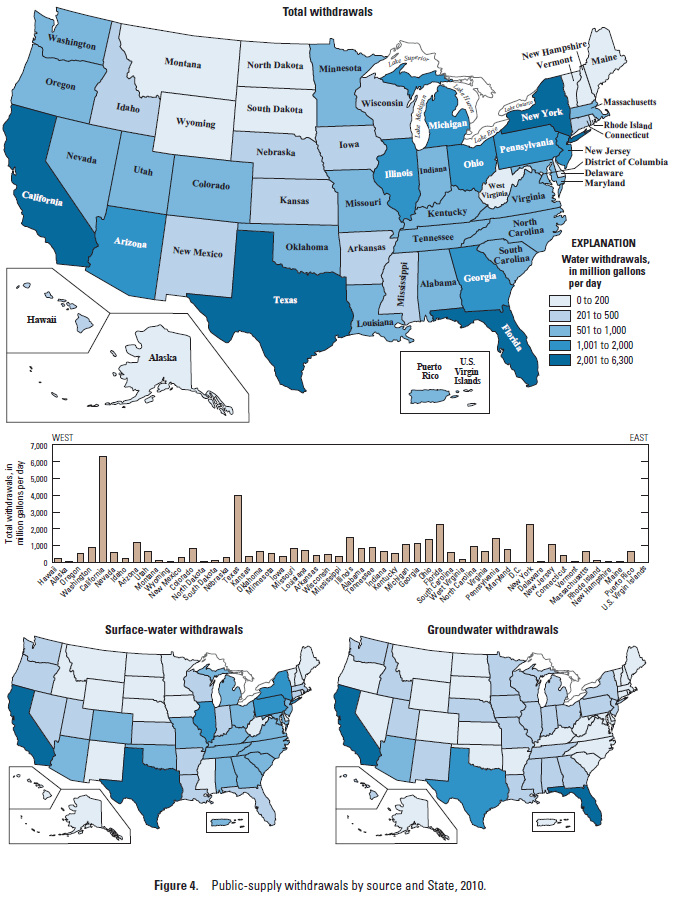 An estimated 268 million people relied on public-supply water for their household use in 2010. This number represents about 86 percent of the total U.S. population. About 35 percent of all public-supply withdrawals were in the four States with the largest populations: California, Texas, New York, and Florida. Sixty-three percent of water withdrawn for public supply in 2010 was from surface sources, such as lakes and streams; the other 37 percent was from groundwater.
Five States—California, Texas, New York, Pennsylvania, and Illinois—each withdrew more than 1,000 Mgal/d of surface water for public supply in 2010 and together accounted for 40 percent of the total surface-water withdrawals for public supply. In 36 States, including Puerto Rico and the U.S. Virgin Islands, surface-water sources provided more than half of the total public-supply withdrawals.
Three States — California, Florida, and Texas — each withdrew more than 1,000 Mgal/d of groundwater for public supply in 2010 and accounted for 38 percent of total groundwater withdrawals for public supply. States that relied on groundwater for 75 percent or more of their public-supply withdrawals were Hawaii, Florida, Idaho, Mississippi, Nebraska, and Iowa.
Trends in public-supply water withdrawals, 1950-2010
Public-supply withdrawals in 2010 were 5 percent less than in 2005, decreasing from 44.3 Bgal/d to 42.0 Bgal/d and marking the first decline since public-supply withdrawals were initially reported in 1950. Total public-supply withdrawals in 2010 were at levels not reported since prior to 2000. During decadal periods between 1950 and 1960, public-supply withdrawals increased 50 percent in conjunction with the high population growth rates during those periods. Percentage increases in public-supply withdrawals during the next three decadal periods between 1960 and 1990 averaged 23 percent, again coinciding with the rate of growth in population during the same time periods. Between 1990 and 2000, the rate of increase in public-supply withdrawals was lower at 12 percent. Between 1990 and 2010, public-supply withdrawals have been roughly 60 percent from surface water and 40 percent from groundwater sources. The percentage of the population that is served from public-supply withdrawals has increased from 62 percent in 1950 to 86 percent in 2010.
Public-supplied and self-supplied populations as percent of total population, in the U.S. from 1955-2010

| | 1955 | 1960 | 1965 | 1970 | 1975 | 1980 | 1985 | 1990 | 1995 | 2000 | 2005 | 2010 |
| --- | --- | --- | --- | --- | --- | --- | --- | --- | --- | --- | --- | --- |
| Population | 164.0 | 179.3 | 193.8 | 205.9 | 216.4 | 229.6 | 242.4 | 252.3 | 267.1 | 285.3 | 300.7 | 313.0 |
| Public supply | 70 | 76 | 79 | 80 | 81 | 81 | 83 | 83 | 84 | 85 | 86 | 86 |
| Self supply | 30 | 24 | 21 | 20 | 19 | 19 | 17 | 17 | 16 | 16 | 14 | 14 |

To view PDF files, the latest version of Adobe Reader (free of charge) or similar software is needed.