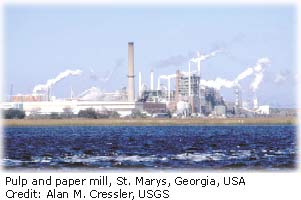 The industries that produce metals, wood and paper products, chemicals, gasoline and oils, and those invaluable grabber utensils you use to get your ring out of the garbage disposal are major users of water. Probably every manufactured product uses water during some part of the production process. Industrial water use includes water used for such purposes as fabricating, processing, washing, diluting, cooling, or transporting a product; incorporating water into a product; or for sanitation needs within the manufacturing facility. Some industries that use large amounts of water produce such commodities as food, paper, chemicals, refined petroleum, or primary metals.
Industrial water use, 2005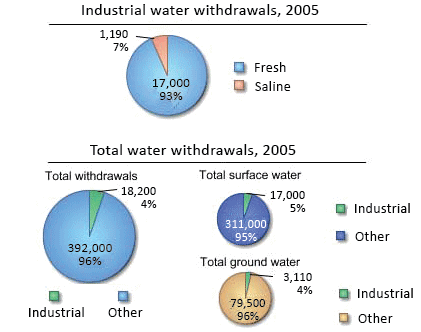 Water for industrial use may be delivered from a public supplier or be self-supplied. For the most part, industries supply their own water (in 1995, 88 percent of all industrial water was self-supplied), and on this page, the data only reflects self-supplied water. Numbers are also rounded, so may not sum to totals.
For 2005, withdrawals were an estimated 18,200 million gallons per day (Mgal/d). (All 2010 water use information is from the report Estimated use of water in the United States in 2010.) Industrial withdrawals were about 4 percent of Nation's total withdrawals and about 9 percent of total withdrawals for all categories excluding thermoelectric power. Surface water was the source for 83 percent (15,000 Mgal/d) of total industrial withdrawals, whereas groundwater accounted for about 17 percent of withdrawals (3,110 Mgal/d). Nearly all (92 percent) of the surface-water withdrawals and (99 percent) of the groundwater withdrawals for industrial use were freshwater. For 2005, total industrial withdrawals were 8 percent less than during 2000.
Industrial self-supplied water withdrawals, by source and type, for the United States in 2005


(Data are in million gallons per day (Mgal/d)

| Source | Fresh water | Saline water | Total |
| --- | --- | --- | --- |
| Surface water | 13,900 | 1,150 | 15,000 |
| Groundwater | 3,070 | 36.8 | 3,110 |
| Total | 17,000 | 1,190 | 18,200 |
Industrial water withdrawals, by State, 2005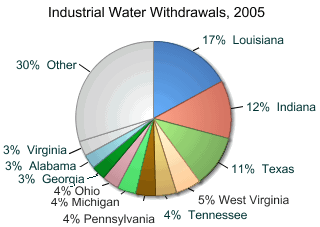 Louisiana used the most water for industrial purposes, about 2,680 Mgal/d, mainly in the chemical and paper industries. Louisiana, Indiana, and Texas accounted for almost 38 percent of total industrial withdrawals, while Louisiana and Indiana accounted for 32 percent of the total fresh surface-water withdrawals. The largest fresh groundwater withdrawals were in Georgia, Louisiana, and Texas, which together accounted for 23 percent of the total fresh groundwater withdrawals. Texas accounted for 71 percent of the saline surface-water withdrawals for industry.

Data table: Industrial withdrawals by state, 2005 (PDF)