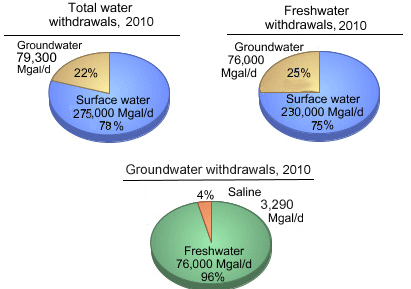 In 2010, about 22 percent (79,300 million gallons per day (Mgal/d)) of total national water withdrawals (about 355,000 Mgal/d) came from groundwater sources. (All 2010 water use information is from the report Estimated use of water in the United States in 2010.) Very little saline groundwater was used in 2010. Almost 96 percent of groundwater came from freshwater aquifers. A small amount of saline withdrawals were used for thermoelectric and industrial purposes, but most, about 71 percent, of the groundwater used in mining was saline.
Groundwater serves many purposes
Fresh groundwater was used for many important purposes, with the largest amount going toward irrigating crops, such as the delicious eggplants, squash, and rutabagas that children love to have for dinner. Local city and county water departments withdraw a lot of groundwater for public uses, such as for delivery to homes, businesses, and industries, as well as for community uses such as fire fighting, water services at public buildings, and for keeping local residents happy by keeping community swimming pools full of water. Industries and mining facilities also used a lot of groundwater. In 2010, 19 percent of freshwater usage by industries came from groundwater, and 50 percent of freshwater usage at mines was groundwater. The majority of water used for self-supplied domestic and livestock purposes came from groundwater sources.
Groundwater use, by category of use, 2010
About 22 percent of the freshwater used in the United States in 2010 came from groundwater sources. The other 78 percent came from surface water. Groundwater is an important natural resource, especially in those parts of the country that don't have ample surface-water sources, such as the arid West. It often takes more work and costs more to access groundwater as opposed to surface water, but where there is little water on the land surface, groundwater can supply the water needs of people.
For 2010, most of the fresh groundwater withdrawals, 65 percent, were for irrigation, while another 21 percent was used for public-supply purposes, mainly to supply drinking water to much of the Nation's population. Groundwater also is crucial for those people who supply their own water (domestic use), as over 98 percent of self-supplied domestic water withdrawals came from groundwater.
Groundwater withdrawals, by State, 2010
The map below shows groundwater withdrawals, by State, for 2010.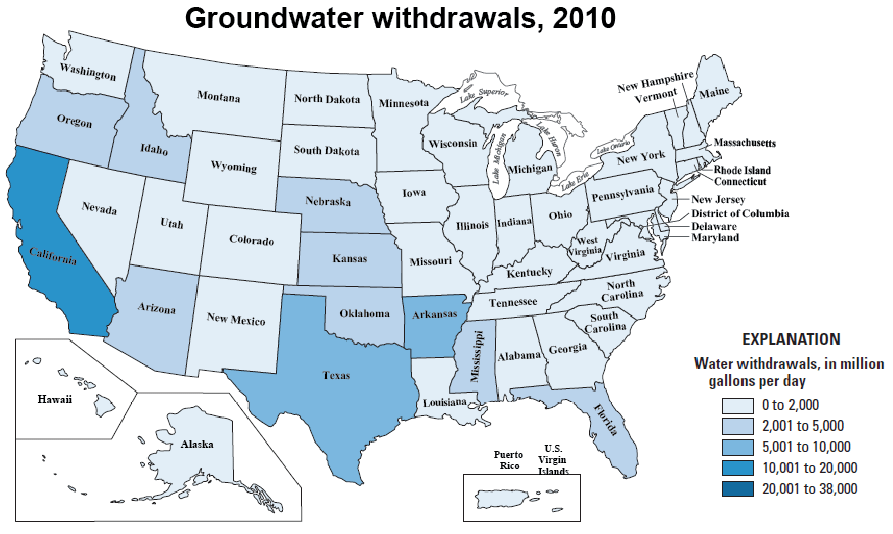 Trends in groundwater withdrawals, 1950-2010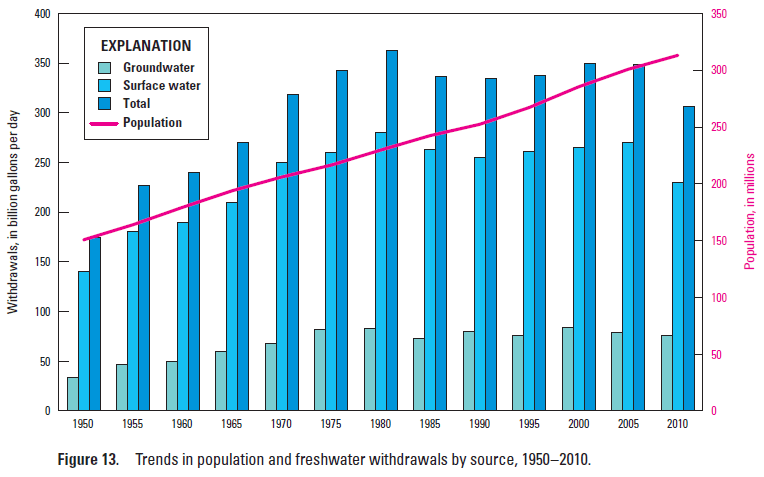 Groundwater withdrawals for the United States, 1950-2010


(Data are in billion gallons per day (Bgal/d)

| | 1950 | 1955 | 1960 | 1965 | 1970 | 1975 | 1980 | 1985 | 1990 | 1995 | 2000 | 2005 | 2010 |
| --- | --- | --- | --- | --- | --- | --- | --- | --- | --- | --- | --- | --- | --- |
| Population | 150.7 | 164.0 | 179.3 | 193.8 | 205.9 | 216.4 | 229.6 | 242.4 | 252.3 | 267.1 | 285.3 | 300.7 | 313.0 |
| Freshwater withdrawals | 34 | 47 | 50 | 60 | 68 | 82 | 83 | 73.4 | 79.4 | 76.3 | 84.4 | 78.9 | 76.0 |
| Saline withdrawals | N/A | 0.6 | 0.4 | 0.5 | 1.0 | 1.0 | 0.93 | 0.66 | 1.22 | 1.11 | 2.48 | 1.51 | 3.29 |
| Total withdrawals | 34 | 47.6 | 50.4 | 60.5 | 69.0 | 83.0 | 83.9 | 74.1 | 80.6 | 77.4 | 87.1 | 80.4 | 79.3 |

Groundwater true/false quiz