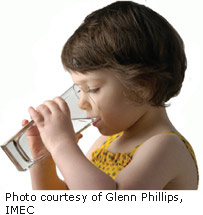 Of course some of the most important uses for water are at our homes. Domestic water use is water used for indoor and outdoor household purposes— all the things you do at home: drinking, preparing food, bathing, washing clothes and dishes, brushing your teeth, watering the yard and garden, and even washing the dog.
Water generally gets to our homes in one of two ways. Either it is delivered by a city/county water department (or maybe from a private company), or people supply their own water, normally from a well. Water delivered to homes is called "public-supplied deliveries" and water that people supply themselves is called "self supplied", and is almost always from groundwater.
The majority of America's population (about 86 percent) gets their water delivered from a public-supply system. This makes sense, as America's population now largely live in urban centers. The trend over the last 70 years is of people moving to urban centers and is reflected in the shrinking numbers of self-supplied people in the Nation.
Self-supplied domestic withdrawals for the Nation, 2010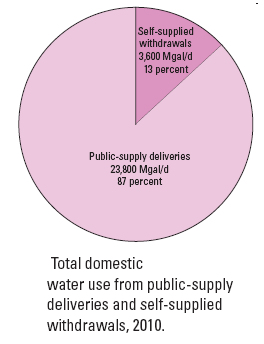 Although the majority of people in the United States used water provided by public suppliers in 2010, about 44.5 million people, or 14 percent of the population, supplied their own water for domestic use. (All 2010 water use information is from the report Estimated use of water in the United States in 2010.) These self-supplied withdrawals totaled 3,600 million gallons per day (Mgal/d), or about 1 percent of estimated withdrawals for all uses in 2010. Nearly all (98 percent) of these self-supplied withdrawals were from fresh groundwater.
Domestic water withdrawals and public-supply deliveries for the United States in 2010


(Populations are in thousands; water withdrawals, deliveries, and use are in million gallons per day (Mgal/d))

Self-supplied
Public supply
Total water use
Population
Percent of total population
Ground
water
with-
drawals
Surface-
water
with-
drawals
Total
with-
drawals
Population served
Water deliveries
Total population
Total water use
44,500
14
3,540
63.9
3,600
268,000
23,800
313 ,000
27,400
Domestic water use by State, 2010

Just to clarify, when we talk about total domestic water use below, we are referring to the combination of self-supplied domestic water and water delivered to all homes from public-supply systems.
States with the largest domestic use (public supplied, self supplied. and deliveries from public supply) were states with large populations: California, Texas, Florida, New York, and Illinois. Texas, Michigan, North Carolina, Florida, and Pennsylvania had the largest self-supplied withdrawals. Self-supplied domestic populations were largest in Pennsylvania, North Carolina, and Michigan. States with the largest percentages of their population that were self-supplied were Maine, Alaska, North Carolina, and the U.S. Virgin Islands.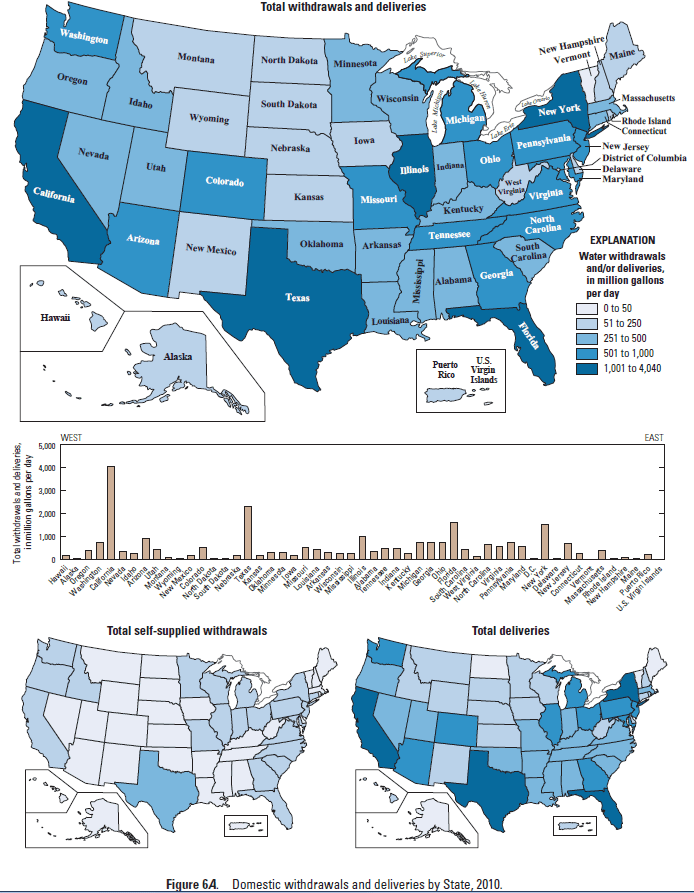 Trends in domestic water use, 1955-2010
Since the end of World War II there has been a trend of people moving out of the rural countryside and into the ever-expanding cities. This has important implications for our water resources. Communities have had to start building large water-supply systems to deliver water to new populations and industries.
In times past when most people lived in rural areas, they had to find ways to supply their own water—often by drilling a well and pumping water to their homes. Not many city dwellers have a well in their backyards today. A public-water supply system, such as your local water department, nowadays delivers water to most homes. Over the last 70 years or so, there has been a trend of more people moving to urban areas. Thus, the percentage of people getting their water from public water-supply systems has been rising, compared to the percentage of people supplying their own water. About 14 percent of the Nation's population supplied their own water in 2010.
Public-supplied and self-supplied populations as percent of total population, in the U.S. from 1955-2005

| | 1955 | 1960 | 1965 | 1970 | 1975 | 1980 | 1985 | 1990 | 1995 | 2000 | 2005 | 2010 |
| --- | --- | --- | --- | --- | --- | --- | --- | --- | --- | --- | --- | --- |
| Population | 164.0 | 179.3 | 193.8 | 205.9 | 216.4 | 229.6 | 242.4 | 252.3 | 267.1 | 285.3 | 300.7 | 313.0 |
| Public supply | 70 | 76 | 79 | 80 | 81 | 81 | 83 | 83 | 84 | 85 | 86 | 86 |
| Self supply | 30 | 24 | 21 | 20 | 19 | 19 | 17 | 17 | 16 | 16 | 14 | 14 |