Learn More
Water Science water-use pages
Categories of Use:
National Water Use Program
Information and Data
Aquaculture Water Use
Fish farming is only one aspect of aquaculture. Aquaculture water use is water associated with raising creatures that live in water—such as finfish and shellfish—for food, restoration, conservation, or sport. In many lakes, rivers, and reservoirs around the country, recreational fishermen enjoy catching fish that have been raised in fish ponds and released to natural waters. Aquaculture production occurs under controlled feeding, sanitation, and harvesting procedures primarily in ponds, flowthrough raceways, and, to a lesser extent, cages, net pens, and closed-recirculation tanks.
Aquaculture withdrawals for the Nation, 2010
During 2010, total withdrawals for aquaculture was about 9,420 Mgal/d, or 10,600 thousand acre-ft/yr. (All 2010 water use information is from the report Estimated use of water in the United States in 2010.) Surface water was the source for about 81 percent of the withdrawals for this category. Much of the surface water was used for flowthrough raceways and was returned to the source after use. A combined total of 14.2 Mgal/d saline surface-water withdrawals, less than 0.2 percent of total aquaculture withdrawals, were reported in Rhode Island (8.80 Mgal/d) and Texas (5.37 Mgal/d). Aquaculture withdrawals were 3 percent of total withdrawals and 5 percent of total withdrawals for all categories excluding thermoelectric power. Estimated aquaculture withdrawals in 2010 were 7 percent more than in 2005.
Aquaculture water withdrawals for the United States in 2010


(Data are in million gallons per day (Mgal/d)

| | Groundwater | Surface water | Total |
| --- | --- | --- | --- |
| Aquaculture | 1,820 | 7,610 | 9,420 |
Aquaculture withdrawals by source and State, 2010
The geographic distribution of total, surface-water, and groundwater withdrawals for aquaculture is shown in figure 9. Idaho, North Carolina, California, and Oregon used the most water for aquaculture, about 63 percent of the total and about 74 percent of the surface-water withdrawals for aquaculture. Alaska, Louisiana, Arkansas, California, and Mississippi combined accounted for 60 percent of the total groundwater withdrawals for aquaculture.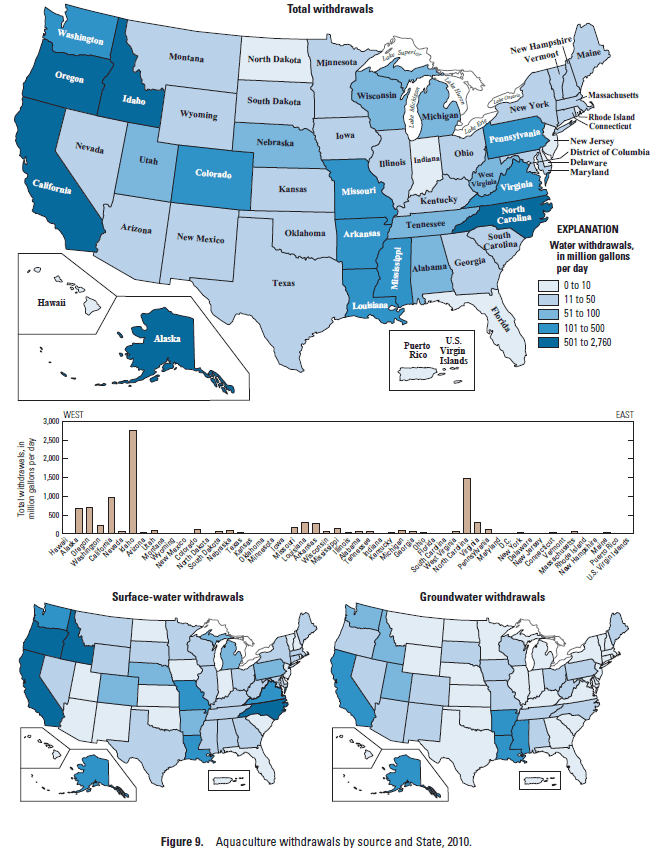 As the label in the grocery store says, "Farm Raised Tilapia Fillets" are for sale. Yes, fish farming is big business and many people eat farm-raised fish and other seafoods. If you've never hear of fish farming, I must disappoint you and say that, no, fish are not farmed in the same manner as corn on stalks, but rather in large ponds.

To view PDF files, the latest version of Adobe Reader (free of charge) or similar software is needed.