The USGS Water Science School
The effects of urbanization on water quality:
Erosion and sedimentation
The topography (lay of the land) of an area's watershed can have a lot to do with how water resources are affected by development. Large-scale development means that a lot of land clearing and grading occurs. If the area has sloping land, soils that erode easily, and receives frequent periods of heavy rainfall, then water quality can be affected, usually in a negative way.
Eroded soil from construction sites is carried to streams and lakes where it causes (1) excess turbidity that harms aquatic life, increases water-treatment costs, and makes the water less useful for recreation; and (2) sedimentation that clogs drainage ditches, stream channels, water intakes, and reservoirs, and destroys aquatic habitats.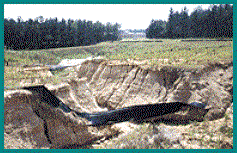 Erosion and sedimentation controls include a wide range of temporary and permanent measures. Planting vegetation is one of the best ways to stabilize soils and minimize erosion. Sedimentation ponds are used to capture storm runoff and allow sediment to settle to the pond's bottom, and silt fences are used to contain water runoff and minimize sedimentation in nearby streams. As the picture to the right shows, silt fences do not always work.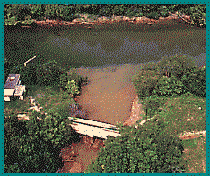 As this picture shows, without proper design, installation, and maintenance of erosion and sedimentation controls, sediment-laden runoff from construction sites can damage streams and nearby properties. In this case, a tributary draining a construction site is depositing sediment-laden water into the clearer river at the top.
Related topics:
Back to Effects of urbanization

Groundwater quality