The USGS Water Science School
The effects of urbanization on water quality:
Waterborne pathogens
Waterborne pathogens are disease-causing bacteria, viruses, and protozoans that are transmitted to people when they consume untreated or inadequately treated water. Two protozoans in the news today are Giardia and Cryptosporidium. Their consumption can lead to severe problems of the digestive system, which can be life-threatening to the very young, very old, or those with damaged immune systems.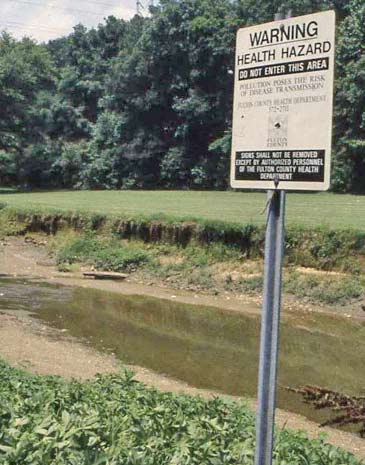 Many cities routinely monitor urban streams to measure the amounts of bacteria that, although harmless themselves, have similar sources (animal and human waste) as do the waterborne pathogens. The harmless bacteria therefore act as indicators of the possible presence of other bacteria that are not harmless. Treated water coming out of wastewater treatment plants is also monitored for bacteria. And in some larger cities additional monitoring of drinking water has begun.
This picture shows a warning sign that has been put up alongside a stream near downtown Atlanta, Ga. Overflow of sewage has caused high bacteria levels in this stream. Generally, it is not a good idea to play in urban creeks and streams -- they can be very dirty (OK, I admit it, I played in this creek when I was a kid -- sorry).
Water, Water, Everywhere—Is it Safe? This is a lesson plan for students to help learn about water treatment and water-borne pathogens, from the EcoHealth101 website.
Related topics: