The USGS Water Science School
How Streamflow is Measured
Part 1: Measuring stream stage
Introduction

1: Measuring stage

2: Discharge measurement

3: Stage-discharge relation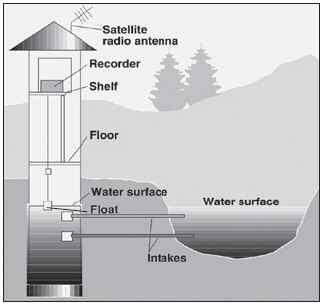 Diagram of a typical USGS streamgage with stilling well.
Most U.S. Geological Survey (USGS) streamgages measure stage and consist of a structure in which instruments used to measure, store, and transmit the stream-stage information are housed. Stage, sometimes called gage height, can be measured using a variety of methods. One common approach is with a stilling well in the river bank (image to the left) or attached to a bridge pier. Water from the river enters and leaves the stilling well through underwater pipes allowing the water surface in the stilling well to be at the same elevation as the water surface in the river. The stage is then measured inside the stilling well using a float or a pressure, optic, or acoustic sensor. The measured stage value is stored in an electronic data recorder on a regular interval, usually every 15 minutes.
At some streamgage sites, a stilling well is not feasible or is not cost effective to install. As an alternative, stage can be determined by measuring the pressure required to maintain a small flow of gas through a tube and bubbled out at a fixed location under water in the stream. The measured pressure is directly related to the height of water over the tube outlet in the stream. As the depth of water above the tube outlet increases, more pressure is required to push the gas bubbles through the tube.
Streamgages operated by the USGS provide stage measurements that are accurate to the nearest 0.01 foot or 0.2 percent of stage, whichever is greater. Stage at a streamgage must be measured with respect to a constant reference elevation, known as a datum. Sometimes streamgage structures are damaged by floods or can settle over time. To maintain accuracy, and to ensure that stage is being measured above a constant reference elevation, the elevations of streamgage structures, and the associated stage measurement, are routinely surveyed relative to permanent elevation benchmarks near the streamgage.
Although stage is valuable information for some purposes, most users of streamgage data are interested in streamflow or discharge—the amount of water flowing in the stream or river, commonly expressed in cubic feet per second or gallons per day. However, it is not practical for a streamgage to continuously measure discharge. Fortunately, there is a strong relation between river stage and discharge and, as a result, a continuous record of river discharge can be determined from the continuous record of stage. Determining discharge from stage requires defining the stage-discharge relationship by measuring discharge at a wide range of river stages.
Sources and more information
Related topics:
How the stream height (stage) relates to the amount of water flowing in a stream
Real-time USGS streamflow data

The water cycle:
Streamflow