The USGS Water Science School
Water Science Pictures
Sediment fences to trap sediment

These pictures show a very common item around our growing cities -- sediment fences at new construction sites. There are probably miles of these fences through every town. They actually serve a very useful purpose -- to keep the exposed dirt and mud from construction sites out of the streets and streams.
The picture on the right shows the job being done somewhat correctly. As the left-side picture shows, a big mess can occur when the job is done wrong. Dirt and mud wash into streets (where my third grader would just love to stomp through it and then come running into the house) and eventually into creeks. Often, mud from construction sites flows along the street during a rain, into a storm sewer and directly into a creek or river.
Excess sediment can harm river quality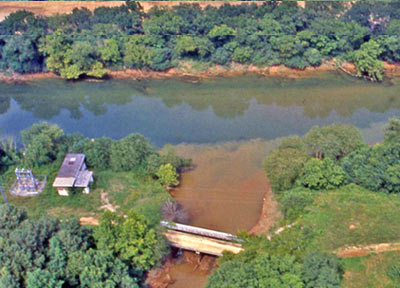 Sediment-laden water from a tributary, where development is probably taking place, entering the clearer Chattahoochee River near Atlanta, Georgia, USA Credit: USGS

View full size
This pictures shows sediment-laden water from a tributary where construction was taking place entering the clearer water of the Chattahoochee River in Atlanta, Georgia. Sediment can carry unwanted chemicals with it, it can lower the amount of light hitting the streambed, which can be bad for biological life in the stream, and it can make problems for industrial equipment and systems that supply people with drinking water.
From an aesthetic view, people tend to enjoy clear rivers to muddy rivers. The section of Chattahoochee River in this picture happens to be a river reach where many Atlantans recreate. There are always lots of fishermen wading in the water as well as families who picnic on exposed rocks. On the weekends, this location is full of kayaks, canoes, and people floating down the river in big inner tubes. You would not have to ask them if they would rather be swimming in the clearer water in the mainstem of the Chattahoochee as opposed to the brown water coming in from the tributary.