Learn More
Water Science School pages
---
USGS information
---
USGS publications
---
References
---
Coastal Changes Due to Sea-Level Rise
Introduction
Americans loves the beach, right? Beaches and coastal regions are top locations for vacations and for living, and, if you look at the results our own (unofficial) "Vote for your favorite water body" opinion survey, you'll see that the oceans are right at the top of peoples' favorite water bodies. Consider these facts compiled by the National Oceanic and Atmospheric Administration: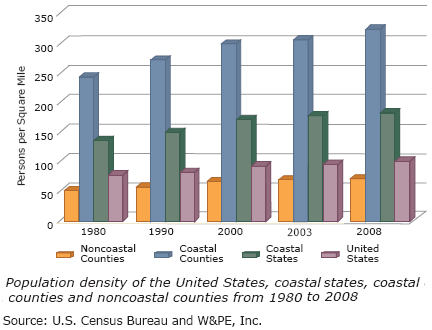 The narrow coastal fringe that makes up 17 percent of the nation's contiguous land area, excluding Alaska, is home to more than half of its population.
In 2003, approximately 153 million people (53 percent of the nation's population) lived in the 673 U.S. coastal counties, an increase of 33 million people since 1980.
In 2003, 23 of the 25 most densely populated U.S. counties were coastal.
Almost one quarter of the nation's seasonal homes are found in the coastal areas of Florida.
Of the 10 coastal counties that experienced the greatest increases in population from 1980 to 2003, six are in California, three are in Florida, and one is in Texas. The combined population increase of these 10 counties alone accounts for 30 percent of the coastal population growth during this period.
Coastal counties average 300 persons per square mile (excluding Alaska), much higher than the national average of 98 persons per square mile.
The most densely populated counties in the nation, New York (Manhattan), Kings (Brooklyn), Bronx, and Queens comprise portions of New York City. Together, these counties average almost 39 thousand persons per square mile.
In 2000, coastal counties contained 52 percent of the nation's total housing supply
In 2000, there were approximately 2.1 million seasonal homes in coastal counties
Vulnerability of America's coasts to seal-level rise
Sea-level rise over the next century is expected to contribute significantly to physical changes along open-ocean shorelines. The predicted consequences are highly variable, but two that will greatly affect coastal regions are sea-level rise and the potential for more frequent and energetic storms. If sea levels do rise, it could have a significant human and economic impact for much of the Nation. In 2001, USGS developed a coastal vulnerability index to quantify the impact sea-level rises would have on America's coasts. The index considers tidal range, wave height, coastal land slope, shoreline erosion rates, erodibility of the shoreline, and historical rates of relative sea-level rise. You can see the results in the maps below.
U.S. Atlantic Coast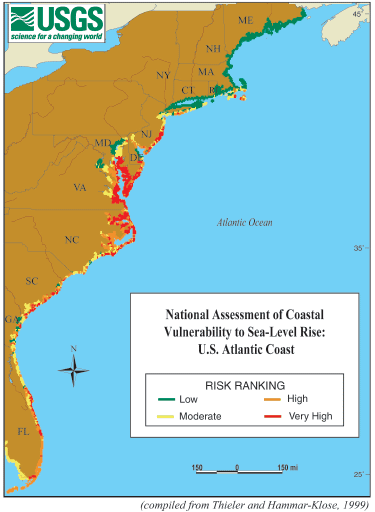 U.S. Gulf of Mexico Coast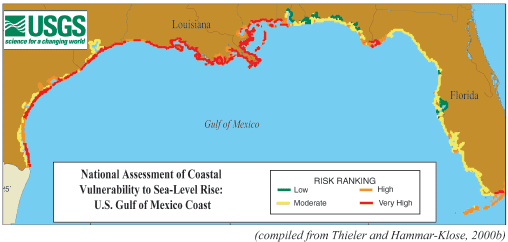 U.S. Pacific Coast