The USGS Water Science School
[an error occurred while processing this directive]

Go back to the water cycle diagram.
The Water Cycle for Kids

Transpiration from plant leaves
If you breathe onto a glass pane, you will see a fog develop on the glass. That is liquid water that condensed from the water vapor gas that you breathed out (which is full of water molecules). Sometimes in winter you get water buildup on the inside of your home windows, which is the same process. The water on the windows can get so thick that drops can form and it can drip down to the window pane.
Truly, you're seeing liquid water formed from water that was a gas. Plants also participate in this activity, in that they are always evaporating water from their leaves into the air, an invisible process. To make it visible, you can do what the Kitchen Pantry Scientist did in this picture - tie a plastic bag around of bunch of leaves and wait a day. The inside of this bag is full of saturated air, so much so that some of the water has already condensed into liquid water. A significant amount is seen in the bottom of the bag.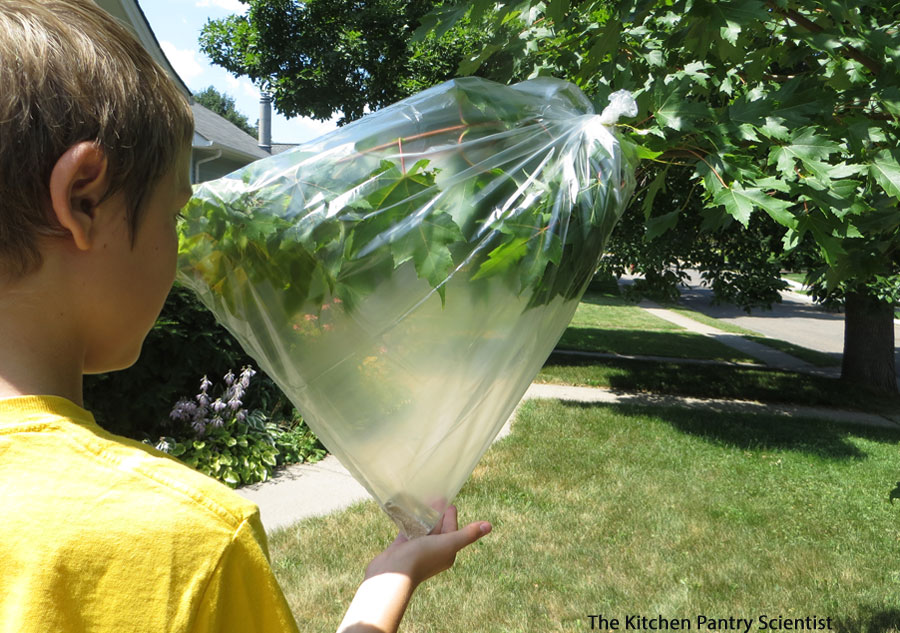 Credit: The Kitchen Pantry Scientist