The USGS Water Science School

[an error occurred while processing this directive]

Go back to the water cycle diagram.
The Water Cycle for Kids

Rivers
This is a satellite photo showing the Ganges River area in Bangladesh. Look at the top of the picture and notice that the rivers start off small (they are flowing south-towards the bottom of the picture). The smaller rivers are often called "tributaries". Just as the creeks and rivers near you do, they flow downhill and one creek will often meet up with another creek and merge to form a larger creek (or river, if you like that word better).
As the river continues to flow it then meets up with another river, merging to become an even larger river. You can see how the rivers get wider as they go south. Eventually these larger rivers, which may meet again and again to form even larger rivers, end up at the ocean, along with a whole lot of dirt, sediment, and mud, seen as brown waves in the picture. You are seeing the water cycle in action as rainfall runoff accumulates in small creeks which merge to form rivers that then empty into the oceans.
And, a similar process is happening in your own body, not with muddy water, but with your blood. You have tiny blood vessels (capillaries) that carry blood cells to the far reaches of your body. As these blood vessels go back to your heart, they merge to form larger blood vessels...merging again and again until they form one large vessel to carry blood back to your heart.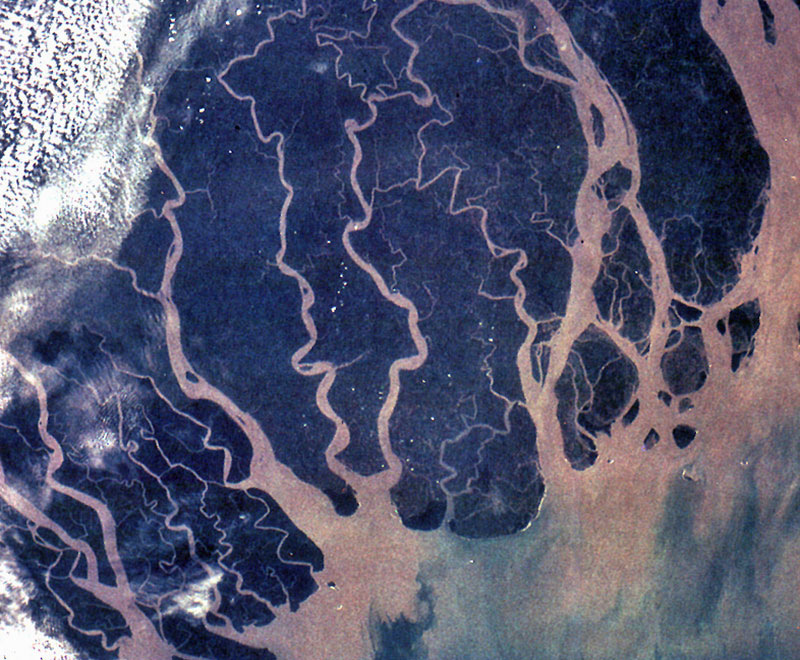 Credit: Image Science & Analysis Laboratory, NASA Johnson Space Center.