The USGS Water Science School

Go back to the water cycle diagram.
The Water Cycle for Kids

Clouds in the atmosphere
This picture shows a lenticular cloud in New Zealand. What's happening above those mountains? Several clouds are stacked up into one larger cloud. The layering is caused by the way winds are hitting the hills and flowing upwards.
Look how nice and golden these clouds are. It is during sunrise and sunset, when the sun is low in the sky at the horizon, that you see clouds this color. Every wonder why? It is because of yet another one of water's properties.
In this picture, the sun is probably low in the sky off to the right side., with the sunlight coming upward and hitting the bottom of the clouds. The clouds are made of trillions of tiny water droplets that are clear but still reflect light (as a prism). The way in which light is reflected from an object determines what color you see. White light, as from the sun, is actually made up of light waves that produce all colors, but mixed together, look white.
The mountains look green because when sunlight hits the plants and trees, they reflect more of the green portion of the sunlight to your eyes. So, because of the way water drops reflect light, at the moment this picture was taken, the drops were reflecting the parts of sunlight that look golden to you. The main thing is to enjoy your sunrises and sunsets even if you don't understand how they work.
Learn more about water and color (more advanced topic).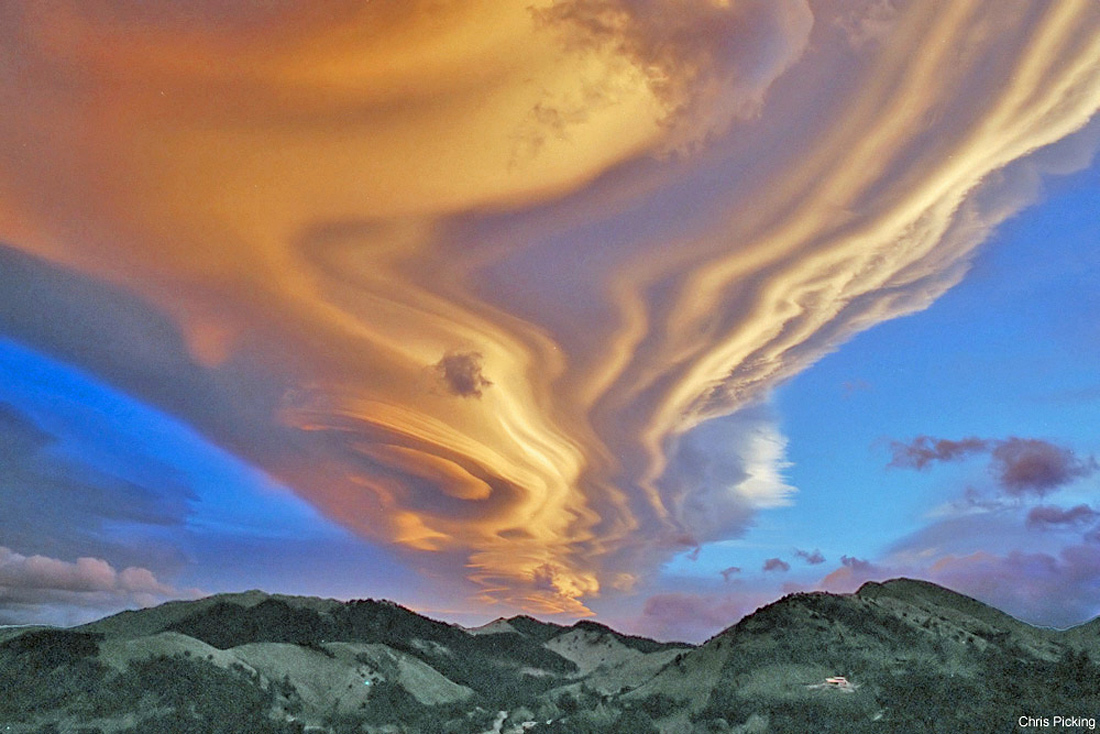 Credit and copyright: Chris Picking (Starry Night Skies Photography).